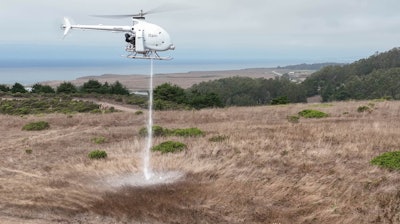 Rain
Rain, a company specializing in aerial wildfire containment technology, announced an oversubscribed seed round, closing $9.7 million in financing earlier this year to provide fire agencies the ability to contain wildfires before they grow out of control with prepositioned autonomous aircraft.
The funding will be used to advance pilot projects in the United States.
Rain adapts autonomous aircraft with a wildfire intelligence system to perceive, understand and suppress early-stage wildfire ignitions, capabilities not yet seen in wildfire technology. This technology enables the prepositioning of firefighting aircraft in high wildfire risk areas and works with existing wildfire detection systems that remotely dispatch Rain-equipped aircraft as soon as ignition is detected, deploying the aircraft within seconds and reaching a nascent fire within minutes.
So far in 2023, both the White House and Congress have authored policy guidance encouraging or requiring fire agencies to develop plans to adopt autonomous aircraft for rapid wildfire suppression. "Forests have reached a critical tipping point, releasing more carbon due to wildfire than they are able to store. Rain's platform, as the future of autonomous aircraft for wildfire protection, will save billions of dollars in expense and allow insurers the ability to improve their wildfire risk adoption, protecting property, electric grids, and human and planetary health," said investor Kareem Dabbagh, Co-Founder & Managing Partner, VoLo Earth Ventures.