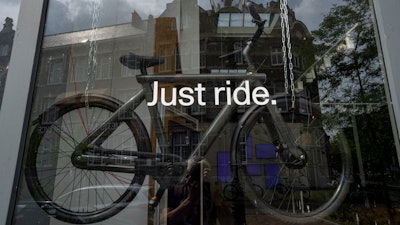 AP Photo/Peter Dejong
AMSTERDAM (AP) — Dutch bicycle maker VanMoof has been declared bankrupt, slamming the brakes on a company that won design awards for its stylish, minimalist electric bikes but struggled to meet soaring demand and fix glitches with the app powering its service.
The Amsterdam-based company, started in 2009 by brothers Taco and Ties Carlier, posted a statement on its website informing clients that an Amsterdam court declared VanMoof bankrupt on Monday.
The company headquarters in Amsterdam was closed Tuesday. One man parked his VanMoof outside the building to take a picture of the bike with the company logo in the background.
It remains unclear how the Dutch bankruptcy will affect the company's foreign operations. VanMoof sells its bikes online and has brand stores in more than 20 cities worldwide, including New York, San Francisco, Paris and Tokyo, according to its website.
The company has sold about 200,000 bikes. It promised to make its bikes almost theft-proof, through the use of digital locking, built-in alarms and GPS tracking: if a VanMoof was stolen, the company would track it down within two weeks or replace it.
"We are still exploring and understanding the impact of the bankruptcy of the Dutch entities on the other legal entities, our intention is to keep these entities running as usual," the company said in its statement. "If we have any news on this matter, it will be shared."
The company saw demand for its bikes soar during the COVID-19 pandemic, leading to delays in deliveries. The company uses many of its own parts to make bikes, meaning that normal bicycle stores and repairers that are a feature in nearly every Dutch town and village can't easily fix them if they break down.
VanMoof bikes rely on a proprietary smartphone app for a number of functions, including the main means of unlocking with a digital "key". Although it's still possible to unlock the bikes manually, without the app, owners face severe restrictions on what they can do.
However, the bankruptcy may not be the end of the road for a company that turned a traditional Dutch means of transport into a lifestyle statement around the world.
"The trustees are currently setting up a sales process for the assets and activities of VanMoof, in order to find a party who is willing to continue the activities of VanMoof," the company said.