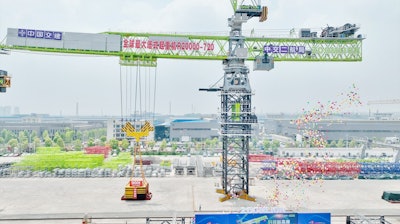 Zoomlion
The world's largest tower crane yesterday rolled off the production line at Zoomlion Tower Crane Intelligent Factory in Changde, China. The world-record-breaking crane marks a major breakthrough for Zoomlion, a Chinese construction machinery manufacturer, in its global drive for expansion in the field of advanced manufacturing.
The R2000-720 can lift 500 cars to 130 floors with its 20,000 t/m rated torque, 720-ton capacity and 400-meter height. The crane integrates 158 innovative scientific research achievements and 305 invention patents, including more than 60 core and 12 world pioneering technologies. After delivery, the 2000-720 will be used in the construction of the three-tower cable-stayed bridge with the world's largest span -- the Ma'anshan Yangtze River Highway-Railway Bridge.
R2000-720 uses Zoomlion's mobile balancing weight technology to accurately move with hoisting torque, improving hoisting performance by over 60%. R2000-720 also innovates by using a high-load-bearing lightweight structure and a heavy-duty split structure, and reduces the upper structure of tower cranes by more than 20% compared to conventional solutions, making transportation, installation, and disassembly easier.
Additionally, Zoomlion has invested heavily in intelligent control technology to improve tower crane agility. It does this through the development of an advanced control system that uses 50 intelligent technologies to achieve a millisecond response.
Despite being the world's largest tower crane, the R2000-720 project had a relatively short delivery cycle of only eight months from design to production at Zoomlion Tower Crane Intelligent Factory in Changde. This was achieved through intelligent manufacturing, where Zoomlion controlled eight key control projects, evaluated and developed 18 parallel projects, and set a new record in delivery time by being two months faster than the W12000-450.