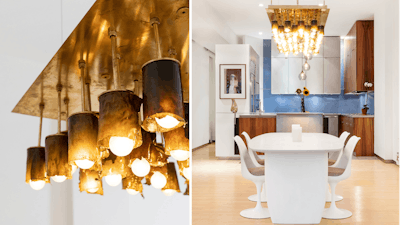 NEA Studio via AP
At first glance, Nina Edwards Ankers' sconces and chandeliers look like ancient scrolls of parchment, or sheets of buttery toffee, wrapped around LED bulbs.
Come closer — or just ask the New York-based designer/architect — and you'll find they're actually made of algae.
She came up with the idea while working on a doctoral research project on materials and lighting at the Oslo School of Architecture and Design, and has now created a collection of sconces, lamps and even a chandelier named "Chlorophyta."
Ankers chose not to disguise the dried algae — her shades have all the imperfections of their natural state, and the honey-toned, translucent colors.
"From the beginning, we wanted to keep the integrity of the material, and display its unique properties," Ankers says.
She is one of many designers thinking beyond traditional materials, finding ways to meld design with sustainable sourcing and production methods.
Ankers and her team at NEA Studios are trying out other natural materials too.
"For lighting, we're interested in red/orange algae, sustainably sourced feathers, horseshoe crab shells and crushed seashells, as well as rubber made of leftover corn," she says. "For furniture, there are organic materials like lentil beans, buckwheat and other fillings for upholstered furniture, as well as natural rattan, cork and bamboo."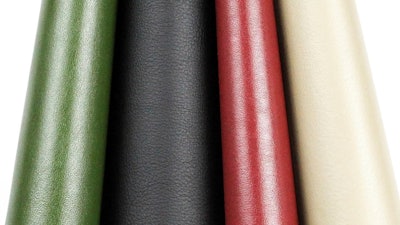 Huge strides have been made in turning recycled plastic bottles and wood and plant fiber into materials that can be used by the home and fashion industries, which are trying to address the negative environmental impacts of cotton production, plastics pollution and more.
The Heimtextil fair, a showcase for what's new in global textile pattern and development, opens this week in Frankfurt, Germany, with an emphasis on the recycling of materials to produce new products in a more environmentally friendly way.
"We'll see companies demonstrating how inorganic materials like nylon, plastic and metal can be reused – for example, carpet tiles that can be dismantled at the end of their life and used as a raw material for new tiles," says Olaf Schmidt, Heimtextil's vice president of textiles and textile technology.
Others are working on recycling organic materials like linen and raffia.
"And there's seaweed, used to produce acoustic mats and panels that provide great insulation, are fire-resistant and regulate humidity well," says Schmidt. "At the end of their life, the panels can be shredded and reused."
At last summer's fair, innovative materials included cork and recycled PET (plastic) bottle fiber.
"Cork is breathable, hypoallergenic, antibacterial, insulating and tough," Schmidt says, adding that it can be harvested more sustainably than many other materials.
Home décor products made with cork include trays, tables, wall panels and lighting. You can buy rolls of patterned, Portuguese cork sheets on Etsy.com, for instance.
Cork is also pulverized and applied to fabrics to create a soft, vegan leather that some designers are using to cover chairs and sofas, while others are turning it into jackets, pants, hats, bags and umbrellas. Svala, for instance, makes totes, bags and clutches out of cork-based fabric.
"The most important trend is sustainability," says fashion industry analyst Veronika Lipar. "The industry is trying to minimize its impact on the environment and no longer be the biggest polluter."
Patagonia, North Face and Timberland are among companies now employing natural materials from regenerative sources.
The recycled PET bottles Schmidt mentioned are being transformed into a mesh yarn called Hydroknit by Canadian footwear maker Native Shoes, and into lightweight shoes and boots the company calls "sweaters for your feet."
Italian brand Kampos offers swimwear and rainwear made of PET bottle filament yarn that's quick-drying and soft.
The yarn itself is sold by the ball at Unique Yarns' shop on Etsy. Light, stretchy and sturdy, it can be knitted, crocheted and woven into items like tote bags or textile art.
Among other ventures:
Italian company Frumat has developed a plant-based leather derived from the waste created by apple juice makers.
Two Mexican innovators, Adrian Lopez Velarde and Marte Cazarez, have created a leather they call "Desserto" using Nopal cactus leaves. Cactuses are of interest to new material developers because they tolerate drought, heat and poor soil.
Pinatex helps support farming communities in the Philippines by utilizing waste from pineapple harvesting to create material that is sold to makers of shoes, accessories, clothing and upholstery.
And California-based Bolt Threads created Mylo, a mycelium-based leather that's being used by brands like Adidas, Lululemon and Stella McCartney.
Finally, some glass wall tiles used in homes started life on a car. Companies are crushing up discarded windshields, then baking the mixture. The powdered slurry becomes a strong, opalescent material called sintered glass.
"Sintered glass is one of our four main tile lines now. There's an incredible range of colors, and high-performance durability," says Ted Acworth, founder of the Boston-based mosaic-tile maker Artaic.
Annie Hall, a designer in Cambridge, Massachusetts, used a mix of clementine, sky and robin's-egg-blue glass tiles on a recent kitchen backsplash project.
"I always hope to find sustainably produced products for my design projects, and I was happy that the sintered glass is just that," she said.