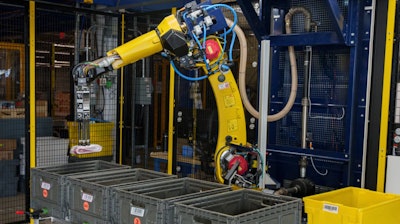 Amazon
Sparrow is Amazon's new intelligent robotic system that streamlines the fulfillment process by moving individual products before they get packaged.
A critical part of our fulfillment process happens before items are even packaged for shipment to customers. Technology moves totes to employees who select inventory to be packaged. Once the items are boxed up, Amazon's existing robotic arms—like Robin and the recently announced Cardinal—can then redirect packages to various locations in the warehouse before they begin their delivery journey.
Amazon has millions of products of all shapes and sizes in its inventory, and the company recognized the opportunity to invent new technology that could help handle them at Amazon's scale.
That's why it introduced Sparrow, its newest robotic system that advances item handling in the company's operations. Sparrow is the first robotic system in Amazon's warehouses that can detect, select and handle individual products in the company's inventory.
Leveraging computer vision and artificial intelligence (AI), Sparrow can recognize and handle millions of items. Working with Amazon's employees, Sparrow will take on repetitive tasks, enabling Amazon's employees to focus their time and energy on other things, while also advancing safety.