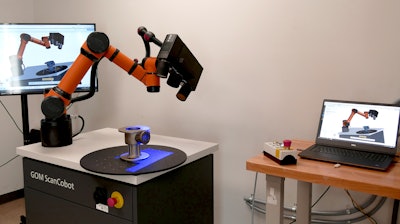 Exact Metrology
Exact Metrology, a division of In-Place Machining Company, and a comprehensive 3D metrology service provider and hardware sales company, recently announced the arrival of the GOM ScanCobot at their Milwaukee area office. The machine was set up, programmed and run by Phil Rediger, Exact Metrology applications engineer.
The ScanCobot is a mobile measuring station with a collaborative robot, a motorized rotation table and powerful software.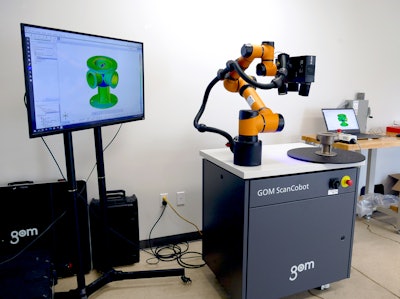 "The software figures out the optimal positions to scan to get the most comprehensive profile possible on the part," said Rediger.
The device provides cleaner, more accurate data than manual scans. To measure a part completely, the sensor must face the part from different directions. The robot arm has an ATOS Q scanner mounted on the end effector. Combined with the motorized rotation table, the robot articulates the 3-view scanner around it.
Measurement planning, digitizing and inspection take place in the virtual measuring room (VMR) of the powerful software GOM Inspect Pro. The VMR is the central control and measurement planning software that represents the complete measuring procedure.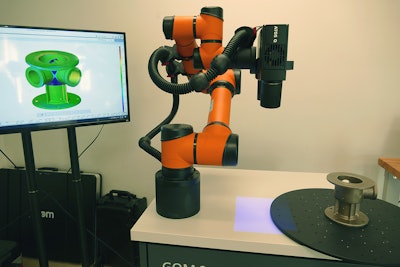 In the software, the CAD data set of the part to be inspected is imported together with the associated measurement plan. The sensor positions and robot paths are computed fully automatically. Additionally, automatic teaching allows the user to work with the system without the need for specific robot programming skills.
Thanks to the Blue Light Equalizer and fast data processing, ATOS Q offers a superior performance. The Blue Light Equalizer enables high-speed fringe projection and is so powerful that even on uncooperative surfaces short measuring times can be achieved. Two different ATOS Q scanners are available. Both can handle a 500mm cube part.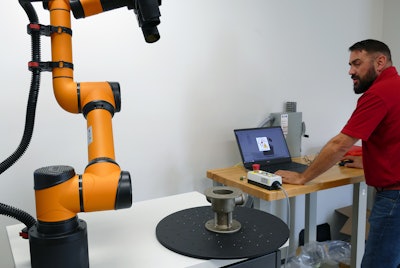 The ScanCobot can easily and quickly be moved from one location to another. Only a standard socket is required for commissioning. It can also be used with a tripod for select scanning.
Exact Metrology offers the device for sale or service and is designed for multiple, repeat scans on a production line, as one-off scans. Currently, the company is focused on promoting this product for diecast and injection molded parts. However, the uses are many, including composite and additive parts.