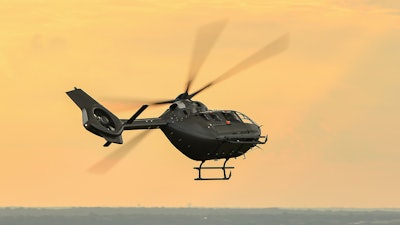 Airbus
Airbus has signed a follow-on contractor logistics support (CLS) contract with the U.S. Army to provide spare parts, material, and engineering support for the Army's entire UH-72A and UH-72 B Lakota fleet of 482 utility and training helicopters.
The contract includes a six-month base and 4.5 option years, with a potential total value of more than $1.5 Billion. Airbus will provide support across 67 Lakota sites in the U.S. and overseas. This includes National Guard bases in 43 states, and Fort Rucker in Alabama, where the UH-72A performs the Army's Initial Entry Rotary Wing mission (IERW).
The CLS contract with the U.S. Army is the largest helicopter performance-based support contract managed by Airbus worldwide.
The UH-72B is produced at Airbus' facility in Columbus, Mississippi while logistics are managed from the facility in Dallas, Texas. The workforce supporting these platforms is approximately 40% U.S. military veterans.
The U.S. Army utilizes the UH-72A and UH-72B models to perform a variety of missions including the counter drug and southwest border missions for the Army's National Guard.
Last year, the UH-72 Lakota fleet exceeded the 1 million flight-hour mark, some 15 years after the first Lakota UH-72A entered service with the U.S. Army. The Lakota platform is a highly capable, twin-engine aircraft with modern glass-cockpit, flight control, and navigation systems. The Lakota remains the Army's lowest cost twin-engine helicopter to buy, own and operate.
The contract will be managed by Airbus U.S. Space & Defense. Headquartered in Arlington, VA. Operating under a Special Security Agreement, Airbus U.S. Space & Defense, Inc offers advanced solutions to meet the most complex U.S. defense, security, space, and intelligence requirements. A long time U.S. government partner, Airbus in the U.S. leverages world-class satellite, laser communication, rotor, and fixed wing solutions to help our National Security focused customers meet their missions.