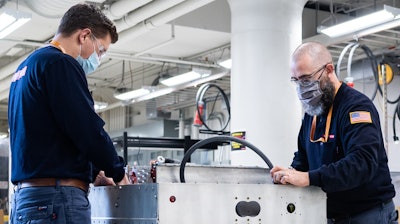 BAE Systems
BAE Systems has been selected by GE Aviation to provide energy management solutions for the recently announced hybrid electric technology demonstrator program. As part of the NASA research project, BAE Systems will design, test, and supply energy management components for electric aircraft in the megawatt power class.
NASA's Electrified Powertrain Flight Demonstration (EPFD) project aims to progress hybrid electric flight technologies for commercial aviation. The project includes ground and flight-test demonstrations to be conducted over the next five years.
In addition to energy storage, BAE Systems will provide the high-integrity controls and cables for the demonstrator's power management system, which will be tested on CT7-9B turboprop engines. The company will also leverage its investment in aircraft electrification and expertise in flight-critical systems to provide guidance for electric flight certification requirements.
Work on the project will be conducted at the company's state-of-the-art facility in Endicott, N.Y.