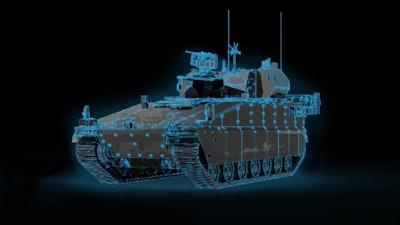 Oshkosh Defense
On April 11, 2022, Oshkosh Defense announced a new Cooperative Research and Development Agreement (CRADA) with the U.S. Army Combat Capabilities Development Command (DEVCOM) Armaments Center (DEVCOM) at Picatinny Arsenal.
Under the agreement, Oshkosh Defense and DEVCOM will cooperate in the development, integration, and testing of innovative armament technologies to provide a next-generation lethality capability for the warfighter. Additionally, the CRADA will enable both organizations to mature technologies for eventual transition to direct fire medium caliber platforms such as the U.S. Army's Optionally Manned Fighting Vehicle (OMFV).
Development activities will leverage Oshkosh's Stryker Medium Caliber Weapon System (MCWS) 30 mm turret.
In June 2021, the U.S. Army selected Oshkosh Defense, Pratt Miller Defense, and Rafael Advanced Defense Systems to provide a precision lethality capability to the Stryker Brigade Combat Teams (SBCTs) as part of the Stryker MCWS program.
Production of the Oshkosh Defense Stryker MCWS is expected to begin in Spring 2022.
In July 2021, the U.S. Army also selected Oshkosh Defense to participate in the OMFV Concept Design Phase, which culminates in Q1FY23.
Oshkosh Defense has partnered with Pratt Miller Defense, Hanwha Defense USA, Rafael Advanced Defense Systems, QinetiQ Inc., and Plasan for the OMFV Concept Design Phase.