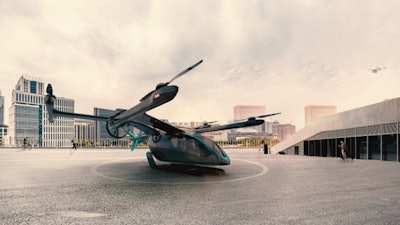 BAE
BAE Systems and Embraer Defense & Security have announced plans to embark on a joint study to explore the development of Eve's electric Vertical Take Off and Landing (eVTOL) vehicle for the defense and security market. Eve is an independent company dedicated to accelerating the global Urban Air Mobility (UAM) ecosystem.
The joint study builds on Eve's development for the UAM market and will look at how the aircraft could provide cost-effective, sustainable and adaptable capability as a defense variant.
Engineers from BAE Systems' Air sector in Lancashire, UK, will work together with the Embraer Defense & Security team based São José dos Campos, in Brazil to explore how a defense variant could be used for a range of applications such as personnel transportation, surveillance and reconnaissance, disaster relief and humanitarian response.
Eve's eVTOL could help to transform defense operations, whilst reducing their environmental impact – at a much lower operating cost than today's platforms.
The joint study directly supports BAE Systems' strategy to accelerate sustainable technology development through increased investment in research and development, as well as working with industry partners, SMEs and academia.