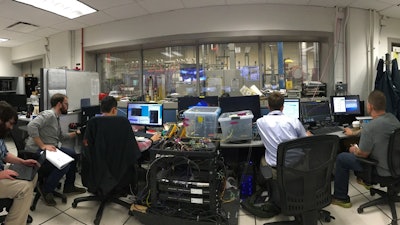 DARPA
Revolutionary laser technologies pioneered in DARPA's Defense Sciences Office over the past decades are allowing Air Force researchers to precisely characterize combustion elements in next-generation jet engines and providing commercial gas and oil developers continuous, region-scale monitoring to rapidly detect methane leaks.
The Spectral Combs from UV to THz (SCOUT) program, which began in 2014 and concluded last year, set out to develop compact, high-precision optical spectroscopy devices to enable rapid detection of multiple trace chemical species in complex environments.
Distinguishing chemicals of interest in the real world is extremely difficult. This is due to significant chemical noise – other molecules in the air that are not the detection target – that confuses many conventional spectroscopic capabilities.
SCOUT researchers were charged with expanding the frequency ranges beyond existing capabilities, reducing the size, improving the performance and shortening the time required to acquire data so that these devices could be transitioned from bulky, fragile laboratory systems to compact, hardened and robust equipment for field-based spectroscopic applications.
The technology pursued in SCOUT is based on optical frequency combs, comprising thousands of discrete, equally spaced frequency lines that resemble extremely fine teeth on a hair comb. SCOUT researchers achieved many fundamental advances in comb-based spectroscopy, including development of new materials, physics, and device geometries.
One team from the University of Colorado Boulder further exploited their comb-based spectroscopic system, building a dual-comb spectroscopy device that was ultimately tested in defense and civilian applications. It is transitioning from DARPA to other government activities and private sector for further development and commercialization.
"SCOUT built upon previous foundational work done in DARPA's Program in Ultrafast Laser Science and Engineering (PULSE) that ruggedized optical frequency comb technology for use outside a laboratory," said Anne Fischer, program manager in DARPA's Defense Sciences Office who managed the SCOUT program. "The results from SCOUT are already paying dividends in applications for the military, other federal agencies, and commercial industry. The Air Force Research Laboratory (AFRL), for example, is using SCOUT technology for high-speed chemical spectroscopy of complex mixtures, such as combustion materials in ramjet engines, with a precision never before possible."
AFRL has characterized the optical frequency comb system as a leap ahead in the state of the art for laser technology and is now funding the former SCOUT team to further develop the technique for additional diagnostic needs.
With follow-on funding from the Advanced Research Projects Agency–Energy (ARPA-E) and in cooperation with the National Institute of Standards and Technology (NIST), SCOUT researchers from the University of Colorado Boulder spun off a small company, LongPath Technologies, to commercialize a precise long-distance methane detection capability using the frequency combs.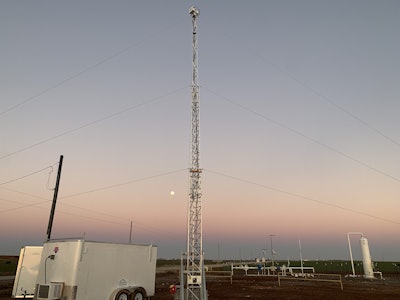 "LongPath now offers commercial products to oil and gas companies to detect methane leaks in real-time, which protects the environment by reducing greenhouse gas emissions and improves overall efficiency in the energy production process," Fischer said. "Commercialization of the technology also drives down price, making it more cost-effective for DoD to purchase the devices for defense applications such as ultra-secure communications, high-precision navigation, and extended standoff detection of deadly chemical and biological agents."
LongPath recently received an additional $5 million from ARPA-E to support scaling its approach for continuous monitoring of methane emissions in oil and gas fields based on the SCOUT technology. A recent test of one LongPath system used to identify methane leaks mitigated 43 million cubic feet of methane emissions over a 6-month period. In the coming year, LongPath intends to deploy an additional 25 systems, enabling real-time location and sizing of natural gas emissions across more than 600 square miles of the Permian Basin in the southwestern United States. This will be the largest continuous emissions monitoring network for the oil and gas industry, and is projected to reduce oil and gas production emissions by 60-80% in the region.