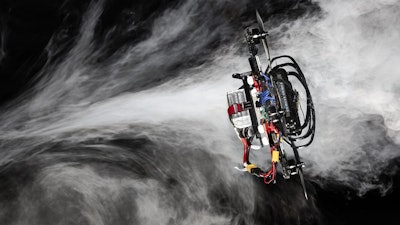 Robotics and Perception Group, University of Zurich
A research group at the University of Zurich created an algorithm for autonomous drones that outperformed human pilots, the university announced in a release.
The algorithm can guide drones with four propellers to find the quickest trajectory through a circuit with a series of waypoints.
Davide Scaramuzza heads the Robotics and Perception Group at the university and the Rescue Robotics Grand Challenge of the NCCR Robotics, which funded the research. He said, "Our drone beat the fastest lap of two world-class human pilots on an experimental race track."
Scaramuzza added that the algorithm is the first to generate optimal trajectories while also considering the drones' limitations.
To simplify the intricacies of the algorithm, Scaramuzza said the algorithm tells the drone to pass through the waypoints but not how or when rather than focusing on the drone's system or the description of the flight path.
In the test against two human pilots, the humans trained on the circuit before the race. External cameras captured the motion of the drones and relayed information to the algorithm regarding the location of the drones. The algorithm proved faster than the human pilots on each lap and more consistent on subsequent laps.
The computer takes up to an hour to calculate the best trajectory for the drone. Before the algorithm can become commercial, it will need to become less computationally-demanding. Scientists also hope to implement cameras onboard rather than use external cameras.
"This algorithm can have huge applications in package delivery with drones, inspection, search and rescue and more," Scaramuzza said.