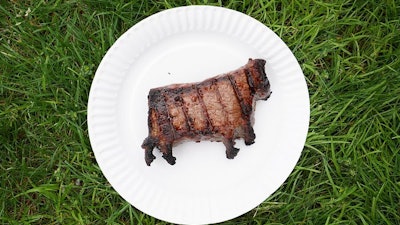 Wazer
Wazer tinkered with its desktop waterjet cutting machine and used it to cut various shapes into steaks to celebrate Independence Day. Wazer engineers remodeled the machine to cut meat, threw together a grill with spare parts and had a barbecue to commence the holiday weekend.
The machine is usually for cutting metal and glass parts in any shape. This computer-controlled machine uses a pressurized stream of water.
The Wazer waterjet typically mixes high-pressure water with abrasive mineral particles. The result is a semiliquid mixture that can cut through hard materials.
For the meat-cutting version, the machine's abrasive hopper was loaded with popcorn salt to add a bit of seasoning.
"Waterjet meat cutting is harder than in looks," Wazer CEO Nisan Lerea said. "You have to cut the meat while it's still frozen so that it retains its shape. Keep the design very simple. If the form is too intricate the meat will get pulverized as it gets thawed by the jet stream. That's why my butterfly-shaped chicken nuggets didn't survive the cutting process."