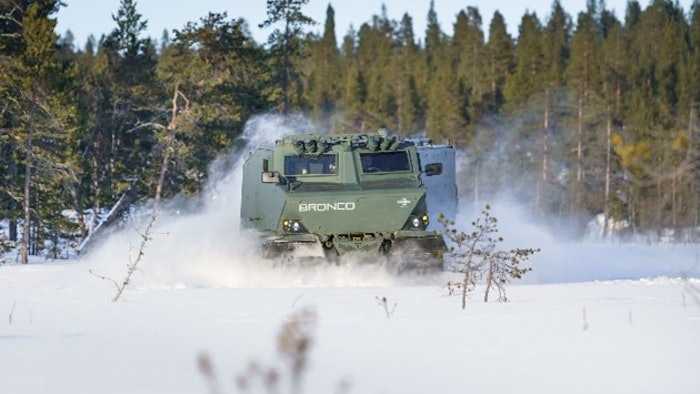 Oshkosh Defense
Oshkosh Defense, an Oshkosh Corporation subsidiary, and partner ST Engineering have been selected by the National Advanced Mobility Consortium (NAMC) to participate in the prototype phase for the U.S. Army's Cold Weather All-Terrain Vehicle (CATV).
The CATV is a new program for a tracked vehicle that operates in extreme cold weather or arctic conditions and is designed to replace the Small Unit Support Vehicles (SUSVs) that have been in service since the early 1980s.
The Oshkosh CATV is derived from the Bronco 3, a member of the Bronco family of vehicles (FoV) by ST Engineering which have been in service in various countries.
The Bronco FoV has undergone more than 1,860 miles of performance testing in arctic conditions as well as over 200,000 miles in a theatre of operations on harsh desert terrain.
The Oshkosh CATV prototypes will offer built-in mission modularity to accommodate a variety of configurations.
A general purpose vehicle, for example, can be used as a troop carrier, casualty evacuation (CASEVAC) or Command and Control vehicle and can be swapped from one configuration to another in the field within 30 minutes by a two-person crew.
Oshkosh Defense and ST Engineering will deliver two prototypes – one general purpose and one cargo vehicle for testing and soldier evaluation in Q3 FY21.
The prototypes will be evaluated on payload, mobility, crush resistance, swimming, and transportability. The U.S. Army has announced plans to issue a follow-on production contract for up to 200 CATVs in FY22.