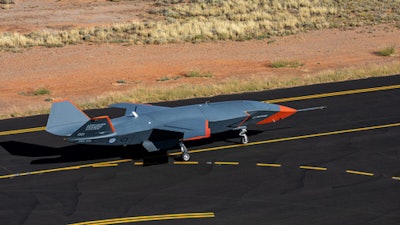 Boeing
Boeing Australia and the Royal Australian Air Force (RAAF) have completed the first high-speed taxi test of the Loyal Wingman in preparation for first flight.
Boeing test personnel monitored the aircraft's performance and instrumentation from a ground control station to verify the functionality while the vehicle reached accelerated speeds. The uncrewed aircraft has been undergoing low-, medium-, and high-speed taxi testing at a remote test location in Australia.
Boeing and the Royal Australian Air Force will resume final taxi tests and preparations for flight in early 2021 when the range reopens.
RAAF Head of Air Force Capability Air Vice-Marshal Cath Roberts said seeing the aircraft in person during the December trials had been extraordinary.
More than 35 Australian suppliers on the Australian industry team have contributed to the aircraft development, including investment partner BAE Systems Australia, which has been embedded with the Boeing test team on-site.