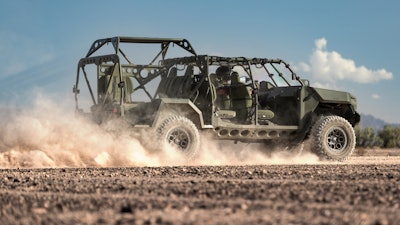 media.gm.com
The U.S. Army Contracting Command recently tabbed GM Defense LLC, a subsidiary of General Motors, with a production contract to build, field and sustain the Army's new Infantry Squad Vehicle (ISV). According to release from GM, the vehicle is designed to provide rapid ground mobility as a light and agile all-terrain troop carrier for up to nine infantry squad members moving throughout the battlefield.
The ISV is light enough to be sling-loaded from a UH-60 Blackhawk helicopter and compact enough to fit inside a CH-47 Chinook helicopter. The total production contract is valued at $214.3 million covering 2,065 vehicles.
The ISV design is based off the 2020 Chevrolet Colorado ZR2 midsize truck architecture and leverages 90 percent commercial off-the-shelf parts. These parts include the Multimatic dual spool-valve dampers and Chevrolet Performance suspension components. All ISV models will be equipped with an occupant and cargo superstructure powered by a 186-horsepower, 2.8-liter Duramax turbo-diesel engine, and six-speed automatic transmission.
In 2019, GM Defense partnered with Ricardo Defense after the U.S. Army awarded three $1 million contracts to competing industry providers to develop ISV prototypes for testing, evaluation and down-selection for the production contract. Ricardo Defense will support key product logistics and fielding requirements of the GM Defense ISV.