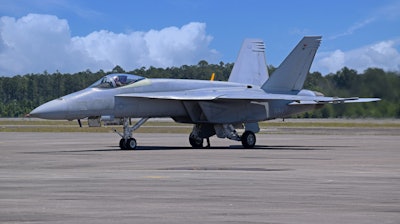 Boeing
Boeing delivered the first Super Hornet test aircraft for the U.S. Navy's Blue Angel flight demonstration squadron. The unpainted aircraft now enters the flight test and evaluation phase at Naval Air Station Patuxent River in Maryland.
Boeing expects to deliver a total of 11 aircraft for the squadron in 2020.
The flight demonstration squadron has flown Boeing or Boeing-heritage aircraft for more than 50 years, starting with the F-4J Phantom II in 1969, and then moving to the A-4F Skyhawk. The team currently operates the F/A-18A-D Hornet.
Boeing converts F/A-18 Hornets and Super Hornets into Blue Angels at the company's Cecil Field facility in Jacksonville, Fla.
Major modifications include the addition of an oil tank for the smoke-generation system, fuel systems that enable the aircraft to fly inverted for extended periods of time, civilian-compatible navigation equipment, cameras, and adjustments for the aircraft's center of gravity.