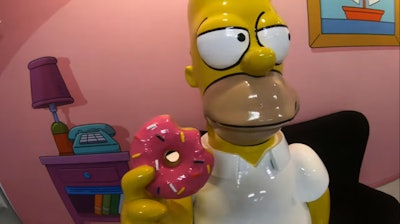 Mammoth 3D
The Coleman Group, in association with Mammoth 3D, printed a life-sized Homer Simpson on a Massivit3D 1800 Pro printer.  
Based in Australia, the Coleman Group is a digital signage and visual communications company that works in the signage, events and exhibition industries. Coleman is the first company to offer Massivit 1800 Pro 3D printing technology in the Australian market.  
Massivit 3D is an Israeli 3D printing firm. The company targets the advertising, entertainment and architectural sectors. The Massivit 1800 Pro was built to optimize durability and resolution, and offer options for operating remotely as well as a proprietary variable resolution capability. 
The 1800 Pro has a patented Variable Resolution capability that can be predefined via the printer's SMART Pro software to allow a change of print mode (resolution level and layer thickness) on-the-fly during the printing of a model. 
The Massivit 1800 Pro is the same printer that was used to print a giant, 27.5-foot skeleton as well as a 14-foot tall version of the Fox Sports robot, Cleatus.