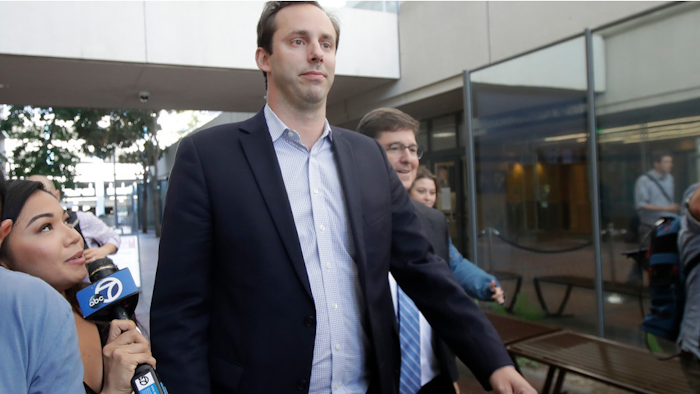 AP PHOTO, Jeff Chiu
An engineer who headed Uber's self-driving vehicle development after a contentious departure from Google was ordered to pay the Silicon Valley titan nearly $180 million this week.
Reuters reports that Anthony Levandowski filed for Chapter 11 bankruptcy, which would allow him to negotiate his debts, shortly after a San Francisco County court issued the ruling Wednesday.
Levandowski was a top engineer at Google's driverless technology program when he formed a self-driving startup known as Otto that was eventually acquired by Uber. He then became head of the ride-sharing giant's autonomous driving efforts before he was fired in 2017 amid a lawsuit filed by Waymo, Google's self-driving affiliate.
The lawsuit alleged that Levandowski and fellow engineer Lior Ron breached their legal obligations and engaged in unfair competition by forming Otto and luring Google employees to the startup. An arbitration panel sided with Google late last year, and the San Francisco court upheld the decision this week. The $179 million penalty includes a previously disclosed $127 million plus interest and legal fees.
Uber, which paid $245 million to settle the allegations that it used Waymo technology to ramp up its driverless efforts, signaled it could challenge the penalty, according to Reuters. Ron, who still works at Uber, settled for less than $10 million last month.
Levandowski, meanwhile, is facing legal trouble beyond the financial penalty. Federal prosecutors charged him with stealing Google's trade secrets last summer; each of the 33 charges carries a penalty of up to 10 years in prison.