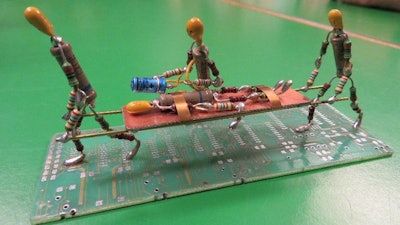 Alexandru Csete, @csete
When you're looking for potential uses for spare parts, have you ever considered tiny sculptures?
According to his twitter profile, Alexandru Csete (@csete) is a Denmark-based embedded software engineer in the satcom industry by day, and an open-source hacker by night.
On January 26, 2019, Csete posted, "I found a use for the myriad of through-hole parts I still have left," followed by a pair of unique sculptures.
While Csete admits that he's not the original artist, the post inspired a few other engineers and hackers to share similar component and circuit sculptures.
If you find similar works of component art, post them below or send them in to david@ien.com.