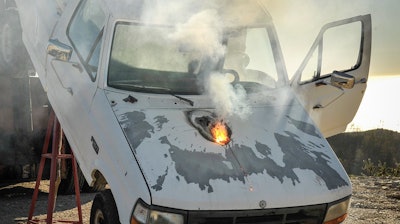 Lockheed Martin
Lockheed Martin has been awarded a nine month, $25.5 million contract extension from the Missile Defense Agency to continue development of its Low Power Laser Demonstrator (LPLD) missile interceptor concept.
This program, awarded Aug. 31, builds on a 2017 contract to develop an initial LPLD concept.
Lockheed Martin's LPLD concept consists of a fiber laser system on a high-performing, high-altitude airborne platform. LPLD is designed to engage missiles during their boost phase — the short window after launch — which is the ideal time to destroy the threat, before it can deploy multiple warheads and decoys.
Over the course of this contract, Lockheed Martin will mature its LPLD concept to a tailored critical design review phase, which will bring the design to a level that can support full-scale fabrication.
Lockheed Martin expands on advanced technology through its laser device, beam control capabilities, and platform integration – ranging from internal research and development investments in systems like ATHENA to programs such as LANCE for the Air Force Research Laboratory.
Continued LPLD development will take place at Lockheed Martin's Sunnyvale, California campus through July 2019.