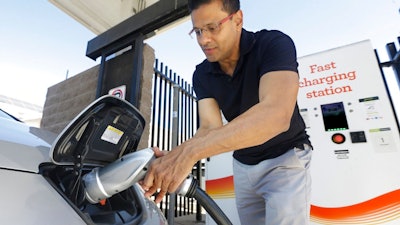 AP file
TOLEDO, Ohio (AP) — The first electric vehicle charging stations on the Ohio Turnpike will be installed at service plazas on the western portion of the heavily traveled toll road.
Virginia-based Electrify America announced this week that it's partnering with the Ohio Turnpike and Infrastructure Commission to install four charging stations.
The stations will be located at service plazas near Toledo and plazas near West Unity.
Each station will have a dispenser that can charge a vehicle up to seven times faster than the most commonly used fast chargers.
The Reston, Virginia-based company says the stations will be installed or under construction by June 2019.
Ohio Turnpike Executive Director Randy Cole says the charging stations are another example of Ohio "staying ahead of the curve."