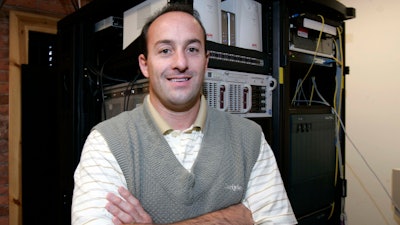 Andy Morrison/The Blade via AP
TOLEDO, Ohio (AP) — A telecommunications company faces a potential $63 million fine for misusing government money meant to help low-income people get phone and internet service and instead spending it on a yacht and private jet, federal regulators said.
The Federal Communications Commission accused Toledo-based American Broadband and Telecommunications Co. of creating fake accounts by using the identities of dead people and manipulating the information from existing customers to get government reimbursements.
The company's founder, Jeffrey Ansted, used the money to buy country club memberships, a Ferrari convertible, a Florida condominium and an $8 million Cessna jet, the FCC said.
Ansted said in a statement that the company told the FCC more than two years ago about "significant administrative compliance and reporting issues" and has repaid nearly all of the money.
The proposed fine announced Tuesday was a surprise, he said, because the company had been working with the FCC and provided an independent auditor's assessment and other data.
The funds at issue came from the Lifeline program that discounts phone and internet service for about 12.5 million people nationwide.
The FCC says it is trying to crack down on waste, fraud and abuse within the program, which is funded by fees on monthly bills nationwide.
A federal audit of Lifeline released last year couldn't verify whether 1.2 million people who were signed up were eligible. The U.S. Government Accountability Office also found nearly 6,400 dead people had re-enrolled.
During the past five years, the FCC has proposed fines against at least nine companies involving its Lifeline program.
The fine recommended against American Broadband is the largest yet. The commission also said that the fine is in addition to money the company must repay and that American Broadband must explain why it should be allowed to maintain FCC authorization to offer service.
The company has 30 days to respond to the FCC's proposed action.
The FCC said its investigation it found that American Broadband made 42,000 apparently improper Lifeline claims in August 2016 after the company told regulators it had fixed its systems and was in compliance.
The investigation also said that at the same time, American Broadband sought and received Lifeline fund for more than 12,000 dead people.
It said sales agents created fake and duplicate accounts by listing one address for dozens of accounts, used addresses where nobody lived and used the names of dead people.