Amy E. Voigt/The Blade via AP
OREGON, Ohio (AP) — Patty Krncevic looked to bring lasting, widespread good after the loss of her stillborn daughter.
She found the library in the Toledo suburb of Oregon.
A 3D printer sits near the front desk. Patrons have used it to build school projects, guitar picks, and name keychains.
But for Mrs. Krncevic, of Toledo, the device was instrumental in creating Footsteps 4 Little Angels. Her organization collects stories from grieving families — families that have suffered the pain of a stillbirth — and shares a small frame memorial in honor of them.
Mrs. Krncevic learned March 20 that her own daughter, Cecilia Angelina, affectionately called CeCe, did not register a heartbeat. CeCe was delivered the following day.
"No one expects, plans for, or prepares themselves for child loss," she said.
The ensuing pain was unimaginable for Mrs. Krncevic. It also meant a sense of feeling apart, she said.
"What I struggled with most is being among society, among my community, among my neighbors, and feeling like I was the one with some kind of problem," Mrs. Krncevic said. "They didn't isolate me, but I felt that way in my mind. Because they had no idea the intensity of the pain that I have to carry."
A stillbirth results when a baby dies in the womb after 20 weeks of pregnancy, according to the March of Dimes. The group says stillbirth affects about 1 percent of pregnancies nationally, or roughly 24,000 babies annually.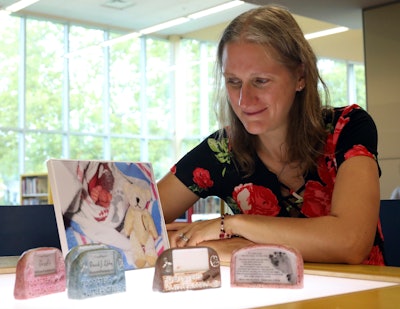 Mrs. Krncevic did her best to carry on for her two young daughters, and still sought ways to help. She knew some people create stones with hashtags as memory markers, and she began learning about 3D printing.
These machines manufacturer a physical object through an inserted digital design file. They can be expensive to own and time consuming to operate. Even a relatively simple job may take hours to complete.
Mrs. Krncevic ordered online a custom design for a 3D printer. She learned the library has 3D printers, and used a system of trial and error to realize her design. The machine created a thin, square frame and small print of her group's web address as a prototype. She formed a silicone mold as well.
Now, Mrs. Krncevic can insert different names and personal information for future resin markers. Four of these memorials will soon be sent to families in need to empower them and help spread awareness of child loss.
Three years ago — before her own loss of a child — Mrs. Krncevic would help grieving mothers by sewing tiny bears with clothing from the lost children. That valuable network became even more vital after her own loss, she said.
"When it happened to me, I did not feel alone. I had already heard all these stories. I had already been embracing these mothers," Mrs. Krncevic said.
The Oregon branch benefited Mrs. Krncevic significantly, and staff welcomed her, Mrs. Krncevic said.
Toledo Lucas County libraries have served her family members in many ways, providing them with a place of community. One of her daughters even learned to walk in the Point Place branch, she said.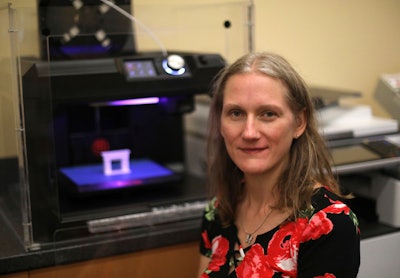 Oregon branch manager Lisa Green said she is grateful the library could help. The library has had its 3D printer since September, 2015. This is the most meaningful job the printer has completed, she said.
"It warms my heart that the library system has taken into consideration the needs of our communities, and providing materials and tools to foster creativity and help with whatever they're trying to produce," she said.
Mrs. Krncevic is now working to make Footsteps 4 Little Angels a nonprofit. She also seeks to create a support group and is coordinating with St. Pius X Parish for hosting sessions. Those seeking more information can visit footsteps4littleangels.org.