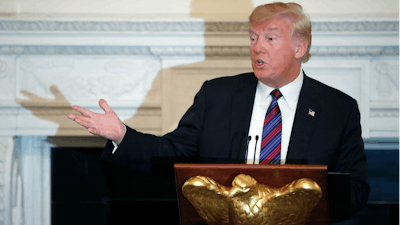 AP Photo/Alex Brandon
WASHINGTON (AP) — President Donald Trump promised Tuesday to address what he says is the "very serious situation" of social media companies "suppressing" conservative voices and "hiding information" and good news.
Trump recently has made similar complaints about the issue, which has been making the rounds in conservative media. But on Tuesday he targeted Google.
Asked whether Trump thinks Google should be subject to some regulation, Larry Kudlow, the president's top economic adviser, told reporters only that "we're taking a look. We'll let you know."
The president said in a pre-dawn tweet that included a typo that a search for "Trump News" on Google "shows only the viewing/reporting of Fake New Media. In other words, they have it RIGGED, for me & others, so that almost all stories & news is BAD."
He added: "Republican/Conservative & Fair Media is shut out. Illegal?"
Google, based in Mountain View, California, had no immediate comment.
Trump began complaining about the issue earlier this month as social media companies moved to ban right-wing "Infowars" conspiracy theorist Alex Jones from their platforms.
Apple, YouTube and Spotify have permanently removed some of Jones' content, Facebook has suspended him for 30 days and removed some of his pages, while Twitter gave Jones a weeklong timeout and was mulling deeper changes to try to limit the spread of fake news, misinformation and hate speech.
Trump has not named Jones in any tweets on the issue. He once praised Jones' "amazing" reputation.
The president also claimed on Tuesday without evidence that 96 percent of the "Trump News" search results on Google are from "National Left-Wing Media." He said this "very serious situation-will be addressed!"
The issue is also of concern on Capitol Hill.
The House Energy and Commerce Committee, chaired by Rep. Greg Walden, R-Ore., recently announced that Twitter CEO Jack Dorsey will testify before the panel on Sept. 5 about the platform's algorithms and content monitoring.