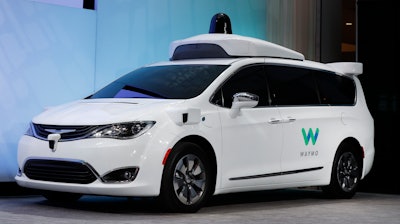 AP Photo/Paul Sancya, File
SAN FRANCISCO (AP) — A self-driving car service that Google spinoff Waymo plans to launch later this year will include up to 62,000 Chrysler Pacifica Hybrid minivans.
The deal announced Thursday is the latest sign of Waymo's confidence in its self-driving car technology, which sprung from a secret Google project started nine years ago. The technology will initially be deployed in a ride-hailing service in the Phoenix area before the end of this year and then expand into other U.S. markets.
Waymo plans to pick up people in cars that won't have a human in the driver's seat, making it the first ride-hailing service with a fleet of fully autonomous vehicles.
The company already had bought 600 Pacifica Hybrid minivans from Fiat Chrysler with a commitment to add "thousands" more.
Waymo and Fiat also are discussing other ways to expand their partnership, including possibly striking a deal to sell Chrysler vehicles with self-driving technology to consumers.
Chrysler is the largest vehicle supplier for Waymo's ride-hailing service so far. Waymo agreed to buy up to 20,000 electric vehicles from Jaguar Land Rover, but none of them will be ready before 2020.
If Waymo ends up using all the vehicles from Chrysler and Jaguar, its self-driving car service will be potentially capable of providing millions of rides per day.
Uber CEO Dara Khosrowshahi says he is trying to persuade Waymo to put its self-driving cars to work in his company's pacesetting ride-hailing service, but there is no indication yet whether that will happen.
Waymo accused Uber of stealing its self-driving car technology in a lawsuit that was settled for $245 million after several days of testimony during a February trial.