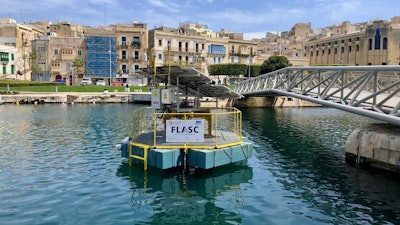 University of Malta
Project FLASC (Floating Liquid-piston Accumulator using Seawater under Compression) is a novel and leading edge energy storage technology concept.
The FLASC prototype consists of a dual-vessel compressed air energy storage system. One pressure vessel mounted on a concrete gravity anchor is placed on the seabed while a second larger, buoyant pressure vessel is secured to the gravity anchor by means of chains under tension.
This Tension Leg Platform (TLP) design is a world first as far as an offshore renewable energy TLP with an integrated energy storage device is concerned. Pressurized seawater and compressed air can be used to store energy generated by offshore renewable technologies such as large floating wind turbines, solar PV, wave and tidal energy systems, along with applications for the liquefaction of natural gas, water injection in oil wells and water desalination.
On this prototype, the upper structure hosts a renewable energy charging system consisting of solar photovoltaic modules and other ancillaries, including a Supervisory Control and Data Acquisition (SCADA) system.
The FLASC prototype has been deployed in Dockyard Creek in Malta's Grand Harbour, where it will be operated in order to monitor and validate the system's thermodynamic performance and to project future full-scale implementation methodologies.
The current prototype has also served as a proof-of-concept for a novel method for TLP deployment that is faster and safer than existing methods.
The system lifetime is of the same order as that of contemporary wind turbines. The energy is not stored in batteries, yet it capable of providing a stepped energy output and ramp regulation. It is also cost-competitive with Li-ion batteries, albeit without the reliance on hazardous chemicals or having the recycling costs associated with battery storage options.
The FLASC concept has been a success story, placing second at last year's InnoEnergy "PowerUp!" Grand Final in Budapest, Hungary, after the idea was pitched to a panel of judges comprising CEOs, VCs and portfolio managers. More recently, FLASC placed first in the Scientific Innovation category of the Commerce Department's Malta Innovation Awards 2017.