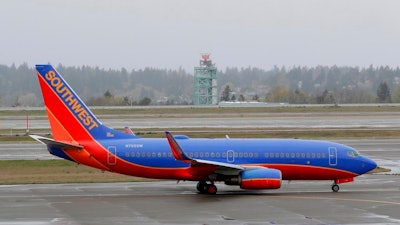 AP Photo/Ted S. Warren
DALLAS (AP) — Southwest Airlines says bookings are down since the fatal accident on one of its planes last week.
The company said Thursday that it expects revenue per mile, which tracks average prices, will drop between 1 percent and 3 percent in the April-through-June quarter. It said that about 2 percentage points of the decline is due to slower sales since the April 17 accident that killed a passenger.
Southwest disclosed the weaker bookings as it reported a 22 percent increase in first-quarter profit, to $463 million. The results were in line with Wall Street expectations.
The financial ups and downs, however, were overshadowed by the emergency landing of one of Southwest's planes last week in Philadelphia that killed one passenger when its engine failed. It was the first accident-related death of a passenger in the airline's 47-year history.
"It remains a somber time" at the airline, CEO Gary Kelly said in a statement. He repeated condolences to the family of the woman who died when a piece of the exploding engine hit the plane, pledged to cooperate with accident investigators, and said Southwest "will never compromise" on safety.
The airline also announced that it plans to fly to four cities in Hawaii, not just Honolulu. That decision raises the stakes in a looming competition with Hawaiian Airlines and other carriers that fly to the islands from the West Coast. The Southwest flights are expected to start late this year or early in 2019.
Southwest also said it will lease coveted takeoff and landing slots at LaGuardia Airport in New York and Washington Reagan National Airport just outside the nation's capital from Alaska Airlines, allowing it to expand at two airports that are essentially full.
Lower income taxes helped Southwest overcome cheaper average fares and higher fuel and labor costs in the January-through-March quarter. Taxes dropped 28 percent from a year ago, saving the Dallas-based airline $54 million.
Excluding items such as fuel-hedging contracts, Southwest said it would have earned 75 cents per share, matching the forecast of analysts surveyed by Zacks Investment Research.
Revenue rose 2 percent to $4.94 billion. That was a Southwest record for the first quarter, but it fell short of the $5.02 billion that analysts in the Zacks survey had expected.
Southwest boosted revenue despite a drop of nearly 5 percent in the average one-way fare, to $146.33 — reflecting slightly short trips and competition on key routes. However, the airline carried 6 percent more passengers, and the average flight was fuller — 81.5 percent of seats were sold, compared with 79.9 percent a year earlier.
Labor costs roses 5 percent and fuel costs grew 6 percent. But Southwest said second-quarter cost increases would be modest, even with possible pay raises for mechanics and what it termed a preliminary estimate of expenses related to the fatal accident — Southwest did not give a figure for those.
Southwest shares have fallen 18 percent since the beginning of the year, while the Standard & Poor's 500 index has decreased slightly more than 1 percent. The stock has fallen roughly 6 percent in the last 12 months.
Southwest shares were down about 5 percent in trading before the bell.