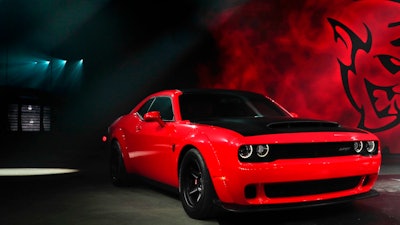 AP Photo/Julie Jacobson, File
The period between the mid-1960s and the early 1970s was a high point for classic muscle-car performance. Fifty years later, the latest batch of American performance cars is taking that reputation to new heights and leaving the rest of the world's automakers in their dust.
That modern cars can outperform their forebears isn't exactly news. Advances in engine power, tire grip and suspension design have brought street-car performance to levels unknown 50 years ago. A more interesting comparison is Detroit's 2018 muscle cars — or pony cars, if you prefer — to other automakers' performance coupes.
PERFORMANCE
Even base versions of the 2018 Chevrolet Camaro, Dodge Challenger and Ford Mustang are impressive. The base Mustang cranks out 310 horsepower. Moving up to a Mustang GT with its V8 engine provides a thumping 460 horsepower. It's a similar story with the Camaro and the Challenger. The V8 versions of these cars all can go from zero to 60 mph in about 4.5 seconds or less.
Handling ability, which was rarely a classic muscle-car forte, is now among the best in the business. At Edmunds, for example, we've rated the Camaro's steering and handling abilities slightly higher overall than those of the BMW's high-performance M4 coupe. The Camaro is just as satisfying and engaging to drive along a deserted curvy road, if not more so.
SPECIAL EDITIONS
Not enough raw power for you? No problem. There have always been special versions of muscle cars.
Topping the list is the 2018 Dodge Challenger SRT Demon. This limited-edition variant boasts a maximum 840 horsepower and various modifications to improve straight-line acceleration. It's one of the quickest-accelerating factory production cars ever, going from zero to 60 mph in about 2.3 seconds and clearing the quarter-mile on a dragstrip in less than 10 seconds.
Ford and Chevy also have their own top-shelf versions meant for road course performance. The Mustang-based Shelby GT350 has a specially tuned suspension, super-sticky tires and a high-revving V8 that would make a Ferrari jealous. It's a similar story with the Camaro ZL1 1LE. At Car and Driver magazine's most recent annual Lightning Lap racetrack test, this 650-horsepower Camaro posted a lap time quicker than just about every other car ever tested, including exotics such as the McLaren 570S.
VALUE
Whether you're looking at an $83,295 Demon or just a basic coupe or convertible, you're getting value. The Camaro, Challenger and Mustang all start at around $27,000. The V8-powered versions typically cost about $7,000 to $10,000 more.
To get similar performance, you'll have to look to European automakers. Japan has largely gotten out of the rear-wheel-drive performance-car market. But these Euro cars cost a lot more. A 354-horsepower Audi S5, which is the brand's sport-tuned coupe, starts at about $55,000. A basic entry-level 2018 Porsche 911, which has 370 horsepower, costs close to $100,000.
While the Europeans have undeniably richer interiors and pedigrees, Detroit's latest muscle cars aren't low-tech knuckle draggers. Inside, all feature large infotainment screens that are easy to use and come with smartphone connectivity for Apple CarPlay and Android Auto.
And while the cars are not fuel-economy champs, the base versions of the Camaro and the Mustang come with turbocharged four-cylinder engines that are good for more than 30 mpg on the highway.
WHAT'S COMING NEXT
In the short term, this new golden age shows no sign of dimming. For 2019, Ford will debut the latest Bullitt version of the Mustang, paying homage to the fearless chase car from the 1968 Steve McQueen movie. Chevrolet says that the 2019 Camaro will be restyled and updated with new features. There's no official news on the Challenger, but Dodge has a history of keeping it fresh with frequent updates.
EDMUNDS SAYS: The latest American muscle cars are the best yet. Whether you're looking at a base Mustang or a heavily modified Camaro or Challenger, they offer unbeatable performance value.