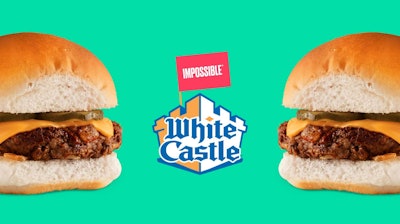 White Castle
The "Impossible Slider" made its fast-food debut yesterday at White Castle. The plant-based slider will be available anytime in 140 locations throughout New York, New Jersey and Chicagoland.
The meatless burger will be topped with smoked cheddar cheese, pickles, onions and served on a signature bun for $1.99, or as part of a combo meal.
White Castle is known as the forefather of American fast-food; the Original Slider is still considered the most influential burger of all time.
In 1921, White Castle pioneered food innovations such as the hamburger bun and the sandwich assembly line. The restaurant is based in Columbus, Ohio and has 376 locations throughout the Midwest and Mid-Atlantic regions.
The Impossible Burger debuted in July 2016 at Chef David Chang's Momofuku Nishi in Manhattan, it had been in development since 2011.
The slider is made from simple ingredients, including water, wheat protein, potato protein and coconut oil. One special ingredient — heme — contributes to the characteristic taste of meat and catalyzes all the other flavors when meat is cooked.
Impossible Foods discovered a scalable, affordable way to make heme without animals: the company engineers and ferments yeast to produce a heme protein naturally found in plants, called soy leghemoglobin. The heme in the slider is identical to the essential heme humans have been consuming for hundreds of thousands of years in meat — and while it delivers the depth of beef, it uses far fewer resources.
The slide is produced without hormones, antibiotics, cholesterol or artificial flavors. It uses about 75% less water, generates about 87% fewer greenhouse gases, and requires around 95% less land than conventional ground beef from cows.
Impossible Foods launched production in September at its first large-scale manufacturing plant, in Oakland, Calif. With demand still outstripping supply, the company plans to add a second shift and double production in the coming months. Later this month, Impossible Foods will launch in Asia -- its first market outside the United States.
White Castle will be testing the Impossible Slider with plans to potentially expand its offering nationwide.
White Castle is the largest restaurant group to serve the Impossible Burger. Beyond the fast-food chain, the Impossible Burger is available in about 1,300 restaurants nationwide, including Fatburger, Umami Burger, Hopdoddy.