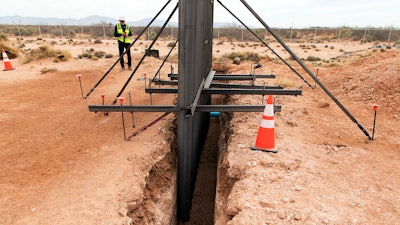 U.S. Customs and Border Protection via AP
A new wall being constructed along a 20-mile (32-kilometer) stretch of the U.S.-Mexico border in southern New Mexico as part of President Donald Trump's fight against drug trafficking and illegal immigration is being advertised as a "very serious structure" made of metal and concrete (view photos in gallery).
U.S. Customs and Border Protection officials gathered Monday to mark the groundbreaking of the $73 million project at Santa Teresa near New Mexico's state line with Texas. They say the new wall will be harder to get over, under and through.
The work to rip out the old vehicle barriers and replace them with the bollard-style wall is expected to take a little more than a year, but opponents are suing in an effort to stop the work.
Out with the Old
Gone will be the old post and rail barriers that are meant to stop vehicles but have been of little use against people trying to cross on foot. Aside from being easy to breach, U.S. Border Patrol officials say the existing barriers and mesh fencing are expensive and time consuming to repair.
In their place will be taller barriers that will provide a view through to the other side but will make it difficult for vehicles and people to pass.
The wall will stand at least 18 feet tall (5.4 meters) and could go as high as 30 feet (9.1 meters) depending on the undulating terrain. It will have a 5-foot (1.5 meter) metal plate at the top to discourage climbing.
The concrete will extend several feet into the ground and there will be more concrete below that to prevent people from digging under it. The design is similar to the existing wall that separates Sunland Park, New Mexico, and Anapra, Mexico.
"It's going to deter all but the most determined illegal entrants from entering the United States here," said Chief Patrol Agent Aaron Hull, who oversees the area.
Prime Corridor
Only about one-third of the Southwest border has some kind of barrier, and border authorities have identified the El Paso Sector — the sprawling desert territory that spans part of West Texas and all of New Mexico — as an active smuggling route.
The priority within the sector is west of Santa Teresa, which Hull described as a prime corridor for running drugs and the busiest area for apprehensions of those suspected of entering the country illegally.
Agents in the El Paso sector arrested more than 25,000 immigrants suspected of crossing illegally and seized more than 34,000 pounds of marijuana and 140 pounds of cocaine during the last fiscal year.
While total border arrests dropped early in Trump's first year in office, the number climbed to 50,308 in March — up 37 percent from February and more than triple the same period last year.
Hull says agents will be able to better address the rising number of illegal crossings with the help of a more effective physical deterrent and technology.
Legal Battle
Environmentalists have sued over the project, saying the federal government overstepped its authority in waiving laws as a way to speed construction.
A federal judge in San Diego recently sided with the Trump administration in a similar project involving waivers of environmental reviews for the replacement and construction of border wall prototypes in California. Reviews required under the National Environmental Policy Act and other dozens of other laws can create significant delays or even block construction.
An environmental advocacy group on Monday asked the 9th U.S. Circuit Court of Appeals to overturn the San Diego ruling and said Trump was trying to fulfill what they described as a "hateful political promise." The Center for Biological Diversity said it would argue that the waiver authority under a 2005 law has expired.
California Attorney General Xavier Becerra also appealed on Monday. A frequent critic of Trump, Becerra contended in his filing that the waiver authority expired and that the waivers were executive overreach under the U.S. Constitution.
U.S. Justice Department spokesman Devin O'Malley declined to comment on Monday's appeals.