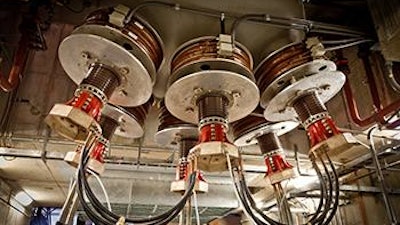 National High Magnetic Field Laboratory
The National Science Foundation (NSF) has renewed support for the National High Magnetic Field Laboratory (MagLab) with $184 million over the next five years, a funding increase of more than 9 percent over the last funding period.
Guided by NSF's merit review process, the decision followed approval from the National Science Board in August 2017, and brings the agency's total MagLab investment to $867 million.
The NSF-supported National MagLab meets the needs of scientists by providing access to a range of powerful instruments, including the world's strongest, most continuous high-field magnet, a massive, helium-cooled structure with a strength of 45 Tesla. The lab has also created a magnet that can repeatedly produce a magnetic field of 100 Tesla -- 2 million times stronger than the Earth's. The magnet is the only one of its kind that can produce fields of that strength without exploding.
Additionally, at 36 Tesla, the MagLab built the most powerful magnet in the world used for nuclear magnetic resonance, a powerful technique biologists, chemists and materials scientists use to study complex structures.
"NSF is proud to support a facility that has broken -- and holds -- many world records in magnet technology," said Anne Kinney, NSF assistant director for Mathematical and Physical Sciences. "But beyond the records, the MagLab enables the world's scientific and engineering community to advance both fundamental science and applied research that benefits society, from next-generation electronics to cutting-edge medicine and energy-efficient systems."
In addition to the primary investment from NSF, the MagLab receives additional financial support from the state of Florida and will remain headquartered at Florida State University. It will retain additional facilities at the University of Florida and, in a continuing cross-agency partnership, at the Department of Energy's Los Alamos National Laboratory.
"This renewal will allow the U.S. to maintain international leadership in critical areas of magnet science and technology, and to break new ground in understanding novel materials for quantum computing and information technology," noted Linda Sapochak, director of the NSF Division of Materials Research.
Each year, more than 1,700 scientists from a broad range of institutions utilize the more than 50 magnets -- including several of the world's most powerful -- at the MagLab's seven user facilities.
"This announcement comes as a strong endorsement for the importance of high magnetic field research in America's science portfolio," said Greg Boebinger, National MagLab director. "The true strength of the MagLab comes from the scientific impact of our users from across the nation, users who access these magnets to make discoveries of new materials, find energy solutions, and explore the science that illuminates life itself."