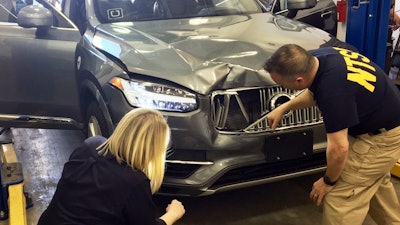 National Transportation Safety Board via AP
PHOENIX (AP) — A lawyer says he represents three family members of an Arizona woman killed when struck by an autonomous Uber vehicle and that his clients aren't part of an apparent settlement involving two other relatives.
Attorney Patrick McGroder did not immediately respond Saturday to an email from The Associated Press but told Arizona media outlets Friday that he represents the mother, father and son of Elaine Herzberg.
The 49-year-old woman was killed March 18 as she walked her bike across a dark street in the Phoenix suburb of Tempe.
A lawyer with a different firm representing Herzberg's daughter and husband said Thursday that the matter of a settlement had been "resolved." No specifics were provided and Uber declined to comment.
Federal safety agencies and Tempe police are investigating the crash.