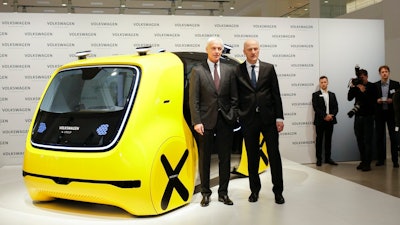 AP Photo/Markus Schreiber
FRANKFURT, Germany (AP) — Volkswagen CEO Matthias Mueller says the automaker had "an excellent year" in 2017 and is committed to addressing concerns about diesel pollution.
Mueller cited the company's efforts to reduce diesel emissions and recover from its 2015 diesel emissions scandal. He said 160,000 older diesels had been taken off the road through trade-in incentives, and decided to update software on 4 million cars to reduce emissions.
He said Tuesday the company would be "part of the solution" in finding a way to address controversy over the diesel issue. Environmentalists are pressing for bans on older diesels in German cities with high pollution levels.
Mueller, speaking at the company's annual news conference in Berlin, gave an upbeat view after last year's record sales of 10.7 million vehicles.
"We are on the offensive and we're going to stay that way," he said.
Mueller said conventional internal combustion engines would play a role in the company's push to meet tougher European Union limits on carbon dioxide emissions by 2021. But he said the company would invest 34 billion euros by 2022 on autonomous and electric technology and on developing digital transportation services.
In 2015, Volkswagen was caught rigging cars to cheat on U.S. diesel emissions tests and paid more than 20 billion euros in fines and legal settlements.