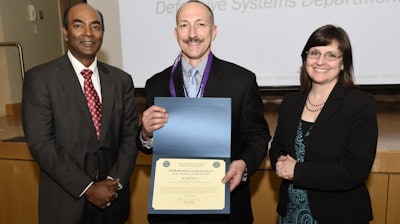 U.S. Navy photo by John F. Williams/Released
ARLINGTON, Va.—One of the objectives for the Department of Defense, defined in the 2018 National Defense Strategy, is to cultivate workforce talent.
To help meet this goal, the Naval STEM (Science- Technology- Engineering- Math) Coordination Office based at the Office of Naval Research (ONR), is leading the effort to develop a diverse, innovative, world-class STEM workforce to maintain U.S. Navy and Marine Corps technological superiority.
On Feb. 21, during the 13th Annual Engineers Week event at the Pentagon, Dr. John DiCecco— an engineer at Rhode Islands' Naval Undersea Warfare Center Division Newport, Undersea Warfare Weapons, Vehicles and Defensive Systems Department— was presented the Department of Defense Science, Technology, Engineering and Mathematics Education and Outreach Advocate of the Quarter Award.
Dr. Michael Simpson, director of ONR's Naval STEM Coordination Office, submitted DiCecco's nomination.
"Every quarter, all of the services nominate individuals who go above and beyond for the advancement of STEM education and outreach," said Simpson. "Last quarter, we had one really standout nominee: Dr. DiCecco. He has established programs all the way down to kindergarten, guiding teachers on how to inspire students to pursue STEM."Not surprisingly DiCecco is a strong advocate for students interested in technology and science fields.
"I'm stunned to receive this award. There are so many people who do so many great things for STEM education," said DiCecco. "It's hard for me to process this. I feel honored to be recognized amongst my amazing peers."
Since 2009, DiCecco has actively participated in the expansion of the SeaPerch program. SeaPerch is an innovative underwater robotics program that gives teachers and students with the resources to build an underwater Remotely Operated Vehicle (ROV), in either an in-school or out-of-school setting.
He also created the Undersea Technology Apprentice Program, a three-week intensive apprenticeship for high school students.
"The Undersea Technology Apprentice Program is really my baby. It's the program that I helped cultivate from the ground up," said DiCecco. "I feel the most proud at the end of those three-week sessions, and I speak with each kid and hear their reflections on their experience."
According to DiCecco, no team ever makes a vehicle that looks like any of the other teams' vehicles.
"Each of the five teams has their own design, which is such a powerful example of why we need different backgrounds and diversity in our system," he said. "Diversity produces things that are different. Not always better, not always worse, but different. When we make a disruptive technology, it's generally because someone thought to do something different than everyone else."Moving forward, the strategy of the Naval STEM Coordination office includes further development and retention of the future workforce.
"What I focus on are the people. I want to make sure that Department of the Navy has given the people the necessary skills to perform the research and innovate for the future," said Simpson. "We achieve this by directly interacting with students at the high school, college and graduate level—and connecting them with a scientist or engineer to solve a real-world problem."