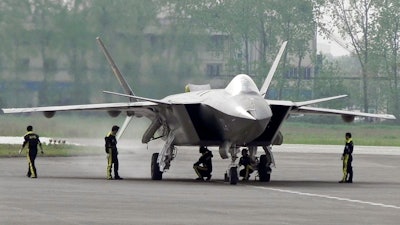 Color China Photo via AP, File
WASHINGTON (AP) — The top U.S. defense intelligence official said Tuesday that it's not just Russia but China too that is seeking faster, futuristic weapons to challenge America's know-how of state-of-the-art military technology.
Army Lt. Gen. Robert Ashley told the Senate Armed Services Committee that China is developing long-range cruise missiles — some capable of reaching supersonic speeds. He says China also is working on a bomber with a nuclear mission, which would give Beijing a nuclear triad of land, air and sea-based nuclear weapon systems.
China and Russia present the greatest threat of developing state-of-the-art military capabilities.
Last week, Russian President Vladimir Putin unveiled new strategic weapons that he claims can't be intercepted. One is a hypersonic glide vehicle, which could fly 20 times faster than the speed of sound and make sharp maneuvers to avoid being detected by missile defense systems.
"Developments in hypersonic propulsion will revolutionize warfare by providing the ability to strike targets more quickly, at greater distances, and with greater firepower," Ashley said. "China is also developing increasingly sophisticated ballistic missile warheads and hypersonic glide vehicles in an attempt to counter ballistic missile defense systems."