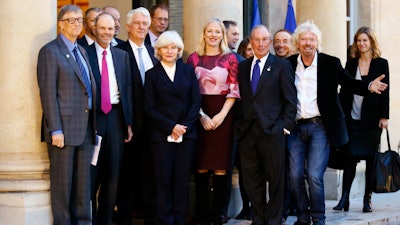 AP Photo/Francois Mori
BERLIN (AP) — An international summit Tuesday to mark the second anniversary of the Paris climate agreement has drawn world leaders, celebrities, companies and environmental groups to the French capital, all aiming to keep up momentum on efforts to curb global warming.
Financial institutions are using the meeting to highlight the need to ensure that their investments don't suffer from, or contribute to, the effects of climate change, such as rising sea levels and more extreme weather around the world.
Here are some of the major announcements made at the Paris summit:
Leaning In
A group of institutional investors calling themselves Climate Action 100+ said it would use its financial clout to raise the issue of climate-related risk with companies.
The group, which comprises 225 investment funds managing more than $26 trillion in assets, said it will focus its efforts on 100 of the world's largest corporate greenhouse gas emitters.
The idea is that companies will heed the concerns of major funds because they don't want to be considered a bad investment due to the financial risks that climate change might pose for their business.
Green Transparency
Over 200 companies have pledged greater transparency on reporting climate-related risks in their businesses as part of a voluntary program led by U.S. billionaire Michael Bloomberg.
The former New York mayor and Mike Carney, the governor of the Bank of England and chairman of the Financial Stability Board, said Tuesday that the number of companies supporting the program had more than doubled in the five months since its recommendations were first published in June.
The 237 companies, with a combined value of over $6.3 trillion, include construction firms, energy companies and financial institutions from 29 countries.
Carney said the Task Force on Climate-related Financial Disclosures plans to report on its efforts when leaders of the Group of 20 leading industrialized and emerging economies meet in Argentina in a year.
Coal Goal
Dutch bank ING plans to have zero investments in coal power generation by 2025.
The company said Tuesday it expects fossil fuels to remain a key source of energy in the coming decades but wants to see the most polluting kind — coal — phased out.
ING said that rather than walk away from clients who don't meet its environmental risk policies, the bank will try to work with them to help improve their climate footprint.
It added, though, that "when engagement and improvement don't work, we don't provide financing."
Fossil-Free Fund
Norwegian pension fund Storebrand said it's expanding its portfolio of fossil fuel-free investments to over $3 billion.
Storebrand, which has $80 billion in assets under management, said Tuesday that the move reflected growing public concern over climate change.
The company has recently tightened its rules, ditching investments in companies deemed to be among the most polluting as a result
Life Savings
Among the issues being discussed in Paris is how to increase financial support for poor countries, including for a U.N. fund meant to help put their economies on a climate-friendly track. The fund, agreed on in 2009, aims to raise $100 billion a year by 2020 but is currently about a third short.
The prime minister of the Pacific island nation of Fiji warned Tuesday that climate change should be considered a life or death issue for millions of people around the world.
Frank Bainimarama, who chaired last month's U.N. climate meeting in Bonn, Germany, said the financial resources required to shift the world economy onto a low-carbon path were there, but that the money needs to flow faster if it's going to make a difference on the ground.