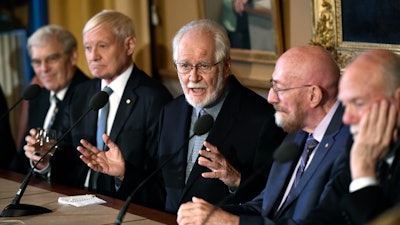 Pontus Lundahl/TT News Agency via AP
STOCKHOLM (AP) — A group of 2017 Nobel Laureates have addressed the lack of female representation in sciences ahead of the prize-awarding ceremony in Stockholm.
The seven winners of this year's Nobel Prize in Physics, Chemistry and Economic Sciences — all white men — said change is happening.
Jacques Dubochet, who won the chemistry prize, told reporters: "Science has been made by males, for males. It is changing, it takes time, but you will see it, they (women in science) are coming."
Physicist Kip Thorne pointed to the increase in the number of women entering undergraduate programs in sciences today compared to when he was a student.
He said Thursday: "Change is coming, but there is a long delay between entering freshman and the Nobel prize."