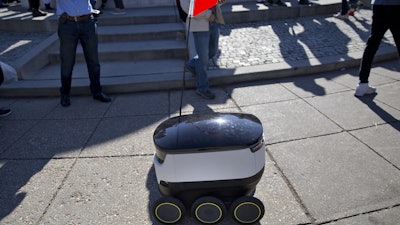 AP Photo/Pablo Martinez Monsivais, file
SAN FRANCISCO (AP) — Delivery robots in San Francisco will need permits before they can roam city sidewalks under legislation approved by city supervisors.
San Francisco has struggled to regulate hometown startups that grew too popular, including short-term vacation rental platform Airbnb and ride-hailing service Uber.
Supervisor Norman Yee proposed an outright ban on delivery robots but settled on a permitting system. The supervisors approved it Tuesday.
A maximum of nine "autonomous delivery devices" may be allowed at any time in the city.
The robots can't go more than 3 miles per hour (4.8 kilometers per hour) and human operators must be nearby. The robots must yield to pedestrians.
Chief executives for autonomous delivery companies Starship Technologies, Marble and Postmates submitted a letter saying they welcomed government regulations.
Other cities have taken similar steps.