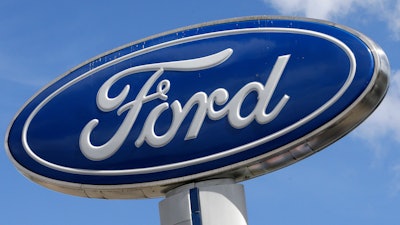 AP Photo/Alan Diaz, File
DETROIT (AP) — Ford Motor Co. is promising to roll out more than 50 new vehicles in China over the next eight years including 15 powered by electricity as it restructures its business and responds to a government push for cleaner air by making all new vehicles electric.
The automaker, currently a small player in the world's largest auto market, announced the ambitious plan on Tuesday in Shanghai.
In addition to the Ford and Lincoln brand electric vehicles, the company said a new Zotye-Ford joint venture will sell a new line of affordable vehicles that run on batteries.
The move comes as Ford tries to become more competitive globally under new CEO Jim Hackett. In October, the company announced plans to cut $14 billion in costs, drop some car models and focus resources on trucks, SUVs and electric vehicles.
It's also a sign that unlike rival General Motors, Ford has missed out on the past opportunities to grow substantially in China, said Jeff Schuster, senior vice president of forecasting for the LMC Automotive consulting firm. "China is extremely important and I think this is an acknowledgement of maybe some previous missteps of investment in China for Ford," he said.
Here's what you need to know about Ford's plan:
Foreign and domestic automakers in China sold 24.4 million cars, minivans and sport-utility vehicles in China last year. LMC forecasts only 1-2 percent growth this year because part of a tax incentive expired at the end of last year, forcing buyers to act in 2017. Schuster says annual growth should settle in in the 3 percent to 4 percent range in future years.
General Motors Co. and Volkswagen AG vie for the title of largest automaker in China. GM sold 383,000 vehicles in October compared with Ford's 150,000.
In September China joined France and Britain in announcing plans to end sales of gasoline and diesel cars. It's developing a timetable to end production of traditional fuel cars and no date has been set for the change to electrics.
Schuster says it's not too late for the company to increase sales in China, where growth is expected to outpace other developed nations.
Ford says it will assemble five additional vehicles in China for customers there including a Lincoln SUV and Ford's first global all-electric SUV. It also will "contain structural cost in the region" this year.
The company says by the end of 2019 all Ford and Lincoln vehicles in China will be linked to the Internet via modems or plug-in devices, to increase consumer connectivity.