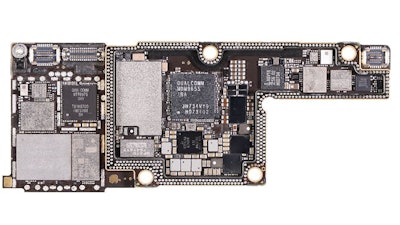 IHS Markit
Teardown engineers at IHS Markit have completed their preliminary physical dissection of the new Apple iPhone X and found that the model A1865 version of the smartphone with 64 gigabytes (GB) of NAND memory carries a bill of materials (BOM) of $370.25.
With a starting price of $999, the iPhone X is $50 more than the previous most expensive iPhone, the 8 Plus 256 GB. As another point of comparison, Samsung's Galaxy S8 with 64 GB of NAND memory has a BOM of $302 and retails at around $720.
"The iPhone X is the most expensive iPhone ever made, and it has the highest retail price tag of comparable flagship phones, catapulting the smartphone industry to an entirely new price point," said Andrew Rassweiler, senior director of cost benchmarking services at IHS Markit.
"While the iPhone X represents Apple's biggest step forward in design since the iPhone's debut in 2007, its underlying architecture is analogous to the iPhone 8 Plus," Rassweiler said. "Both models share platform-common components, but the X's superior screen and TrueDepth sensing set the phone apart and contribute to its higher cost."
Apple's Retail Strategy
The iPhone X represents the next decade of iPhone design as much as it celebrates the 10th anniversary of the release of the original iPhone by Apple founder Steve Jobs. The pricing strategy for the iPhone X is also unique, providing plenty of daylight between its starting price and that of the most expensive iPhone 8 Plus model SKU (stock keeping unit).
"Typically, Apple utilizes a staggered pricing strategy between various models to give consumers a tradeoff between larger and smaller displays and standard and high-density storage," said Wayne Lam, principal analyst for mobile devices and networks at IHS Markit. "With the iPhone X, however, Apple appears to have set an aspirational starting price that suggests its flagship is intended for an even more premium class of smartphones."
Based on the BOM cost and retail pricing, IHS Markit believes that Apple is maintaining its typical hardware margins for the iPhone X. That gross margin may increase over time as manufacturing yields improve.
Lots of Components, Many Suppliers
The standout feature on the iPhone X is Face ID, a facial recognition system that takes the place of Touch ID for unlocking the phone and authenticating payments. It also makes possible new capabilities such as studio-quality lighting in portrait mode and augmented reality experiences in games and apps.
Face ID is enabled by the TrueDepth sensing system, which is housed in the black "notch" at the top of the phone. An infrared (IR) camera projects and analyzes more than 30,000 invisible dots to create a precise depth map of a human face, and it employs machine learning to adapt to physical changes in appearance.
"Apple's Face ID system is very similar in basic functionality to the old Microsoft Kinect system of sensing, which used a flood illuminator, dot projector and infrared camera," said Jérémie Bouchaud, senior director for MEMS and sensors at IHS Markit. "It's a complex assembly that uses components from many suppliers."
The teardown of the iPhone X revealed that its IR camera is supplied by Sony/Foxconn while the silicon is provided by ST Microelectronics. The flood illuminator is an IR emitter from Texas Instruments that's assembled on top of an application-specific integrated circuit (ASIC) and single-photon avalanche diode (SPAD) detector from ST Microelectronics. Finisar and Philips manufacture the dot projector. IHS Markit puts the rollup BOM cost for the TrueDepth sensor cluster at $16.70.
"The assembly and testing of the TrueDepth system and its individual components is challenging and likely a factor in the production delays," Bouchaud said. "For instance, the assemblage and test of the Texas Instruments and ST Microelectronics subsystem for the flood illuminator is far from trivial and requires a high number of test equipment pieces."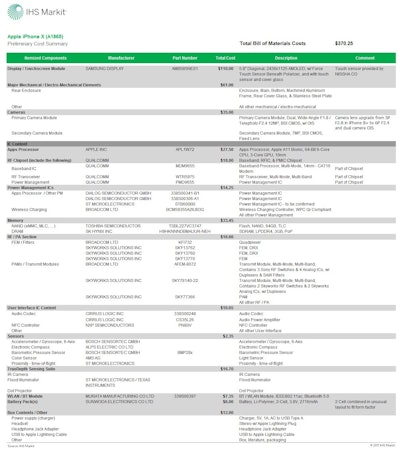 Edge-to-Edge Display
For the iPhone X, Apple utilizes a 5.85-inch 19.5:9 aspect ratio active matrix organic light-emitting diode (AMOLED) panel with a Force Touch sensor beneath the polarizer film. The aspect ratio is the longest of any phone on the market today — a design decision Apple likely made to accommodate the notch while providing a viewable area akin to 18.5:9 aspect ratio smartphones.
Sporting a 2436 x 1125 resolution, the "Super Retina" display features the highest pixel density (458 pixels per inch) and contrast ratio (1,000,000 to 1) ever in an iPhone. The panel is supplied by Samsung Display, and according to the IHS Markit AMOLED and Flexible Display Intelligence Service, the panel maker will supply around 67 million flexible AMOLED units to Apple in 2017 built to the company's unique specifications.
Popular in bezel-less, premium smartphone designs, full screens like the one used in the X are thin and light and have high screen-to-body ratios. "Both the Galaxy S8/S8+ and iPhone X are nearly bezel-less and have a greater than 80 percent screen-to-body ratio. Full-screen smartphone displays are rapidly becoming mainstream," said David Hsieh, senior director for displays at IHS Markit.
"Apple's use of AMOLED in its flagship smartphone is expected to evolve in the coming years — first by the removal of the notch in the display, and then to a smartphone/tablet combo form factor," Hsieh said.
IHS Markit estimates the cost of the display module, which includes the cover glass, AMOLED panel and Force Touch sensor, at $110.
Charting Apple's Path
At Apple's fourth quarter earnings call on November 2, 2017, Apple CEO Tim Cook revealed that the company recorded its biggest year ever. With its innovative, new technologies, the iPhone X embodies Apple's vision of the future.
"There's a lot of content and advanced technology wrapped up in the iPhone X, and Apple has priced its flagship according to the value it's delivering," Lam said. "Apple is executing well on its strategy with a truly unique iPhone."
For more insights from IHS Markit on all things Apple, visit www.IHS.com/appleinsights.