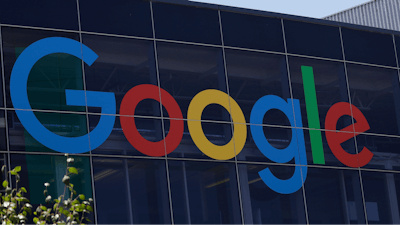 AP Photo
SAN FRANCISCO (AP) — Is it possible to win so much that you end up losing? That's one question facing Google and some of its tech compatriots as they prepare to testify before congressional investigations into Russian meddling next week.
Google continues to pile on billions in ad revenue every quarter. But like its chief rival Facebook, it's being pressured to rein in its hyper-efficient advertising machine.
Google and Facebook dominate the U.S. digital ad market — Google will take 42 percent and Facebook 21 percent of U.S. digital ad revenue this year, according to eMarketer. But pressure to limit the spread of fake news and curb foreign influence in elections could crimp revenue and raise costs in the future if the companies, for instance, have to add further human oversight to their machine-powered algorithms.
Political Ads & Politics
Both Facebook and Twitter have already announced plans to make political ads more transparent in line with a bill introduced last week by Sens. Mark Warner and Amy Klobuchar. Facebook said it was adding 1,000 human checkers to review ads. Google hasn't said how it might comply with potential new rules around political ads, but observers say it's unlikely to get a free pass from Congress.
"It's hard to know whether Congress or regulators will actually step up and regulate the company, but there seems to be a newfound willingness to consider such action," says Daniel Stevens, executive director of the Campaign for Accountability, a nonprofit watchdog that tracks Google spending on lobbyists and academics. "Google, like every other industry, should not be left to its own devices."
Google was hit in June with a $2.9 billion fine by European Union for harming competitors, and in response, it has tweaked its product search results in Europe by allowing competitive online retailers to bid for premium spots in a search results pane. EU regulators have said they will keep a watchful eye on whether the adjustment actually gives equal treatment to rivals.
Neither Google CEO Sundar Pichai nor Ruth Porat, chief financial officer of Google parent Alphabet Inc., mentioned the Russia probe or congressional hearings on a call with analysts Thursday. The most the company has said publicly is a statement it issued last week, in which it offered support for "efforts to improve transparency, enhance disclosures, and reduce foreign abuse." Google added that it is "evaluating" further steps of its own and pledged to work closely with government and industry to "explore the best solutions."
Supercharged Ad Machine
Alphabet posted third-quarter revenues, excluding that shared with partners, that rose 22 percent to $22.27 billion. Net income rose to $6.73 billion from $5.06 billion a year ago, a 33 percent increase. The profit jump was a surprise to analysts, and Alphabet shares rose 3 percent in after-hours trading.
Monica Peart, senior forecasting director with eMarketer, says increased revenue is largely coming from higher-cost segments like mobile search and YouTube, where Google ends up sharing a bigger portion of ad revenue with partners like cellphone makers and video creators.
Meanwhile, research and development costs continue to rise — up 17 percent to $4.21 billion — as Google and other Alphabet units plow more money into artificial intelligence, Google-branded hardware such as the Pixel phone and Home smart speaker, and so-called moonshot projects like its Project Loon balloons , which were recently deployed to deliver internet access to hurricane-ravaged parts of Puerto Rico.