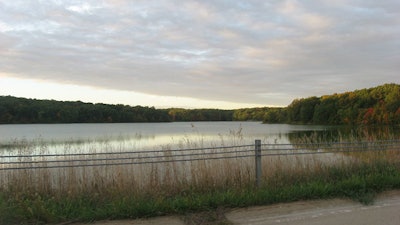 Wikimedia Commons
DANVILLE, Iowa (AP) — Crews are ready to begin an extensive $3 million restoration of Lake Geode in southeast Iowa, but the first task of opening pipes to drain the popular lake is proving to be a challenge.
The plate covering the pipe may be stuck because of pressure, friction or being tied down, The Hawk Eye reported . Divers may try to cut a hole in the plate or the reinforced concrete pipe.
Officials also may consider using pumps to siphon water out if other methods don't work, said Michael Dufoe, southeast Iowa's district engineer for the state Department of Natural Resources. That process would add an extra month to the project, he said.
Once the plate is removed, water will flow to the other side of the dam and into Cedar Creek. The lake is expected to be empty within two to three months of the plate's removal, and it currently remains open to boating. The draining process removes a maximum of 1 foot of water daily in order to avoid causing damage issues downstream or over-saturating the dam.
"This whole process is really going to be dependent on the rain and weather and Mother Nature," said Caleb Waters, Lake Geode watershed project coordinator.
In-lake restoration work will begin once the lake bed is dry. Work includes using mechanical dredging to remove sediment and creating added variability to the lake bottom.
Once the work is complete, the pipe will be plugged again and the lake will naturally refill in two to three years' time.
The project aims to remove the lake from the state's Impaired Waters Listing for having elevated levels of pH and bacteria.