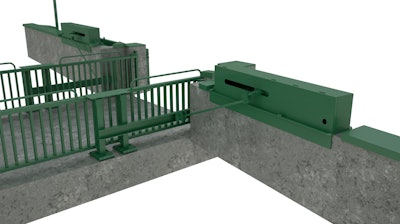 Power Jacks
Power Jacks products are being used to protect people and property in a community which has experienced major flood problems in the past.
The Scotland-based lifting and positioning specialist provided a set of electric linear actuators which play a pivotal role in averting the build-up of debris in a waterway during flood events.
The actuators are used to lower bridge railings which would otherwise gather objects caught up in the flow – materials such as tree branches have previously combined to form a barrier that exacerbates local flooding.
Power Jacks worked with main project contractor ECS Engineering Services, delivering a total of four Rolaram actuators in support of the latest flood defense improvement works in the Yorkshire village of Skinningrove in England.
The most recent work at Skinningrove – instigated by the local council, the Environment Agency and local residents – has been designed to further improve local defences which have taken shape since two major flood events in 2000.
The introduction of the automated system to lower the railings on Stone Row Bridge from a vertical to horizontal position – a task which was previously done manually – enables local flood wardens to focus their efforts on closing flood doors which form part of the wider defense network in the area.
A review of the arrangements indicated that there was not always enough time to safely lower the barriers by hand before the flood doors had to be closed.
The Rolaram M050 actuators are controlled from a sealed and protected station next to the flood doors, and possess a series of task-specific features.
Ten of the main features included in the design of the Rolaram Linear Actuators are:
Three different Rolaram linear actuator configurations to meet space constraints and railing linkage requirements.
High Anti-Corrosion Resistance using extensive stainless steel materials throughout construction.
Each actuator is housed inside an Anti-Vandal enclosure that also protects against damage from wildlife such as nesting birds.
Enclosure is hinged so it can be fully opened to gain full access to the linear actuator inside.
Single phase electric motor drive with thermal and condensation protection.
Backup manual drive with safety interlock in case of local power failure.
Specially designed side arm fittings to connect each actuator to the bridge railing raise/lower mechanism.
Integrated anti-rotation mechanism for the actuators' ram prevents the ram from rotating with the drive screw as the railing linkage is not fully rotationally constrained.
End of stroke limit switches.
Finished in a special green water resistant paint to blend into environment.
For more information, visit https://www.powerjacks.com/.