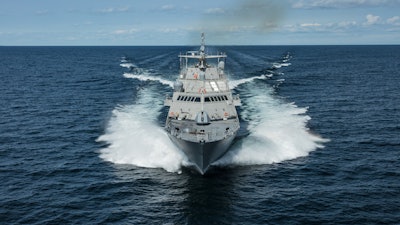 Lockheed Martin
Lockheed Martin and Fincantieri Marinette Marine (FMM) delivered the future USS Little Rock (LCS 9) to the U.S. Navy on Sept. 25.
The future USS Little Rock, the fifth Freedom-variant LCS built by Lockheed Martin and FMM, is scheduled to be commissioned in Buffalo later this year. She will be the first U.S. Navy ship to be commissioned next to her decommissioned namesake.
Founded in 1942, FMM is located on the Menominee River flowage into Green Bay, Wisconsin. The largest shipyard in the Midwest, FMM has delivered more than 1,300 vessels to the U.S. Navy, U.S. Coast Guard, and commercial customers.
LCS 9 completed acceptance trials last month with the highest score of any Freedom-variant LCS to date, earning a "clean sweep."
During sea trials, the industry team also successfully demonstrated performance improvements, which will be incorporated into all future Freedom-variant Littoral Combat Ships.
"Today's important milestone for LCS 9 was made possible by the investment and improvements made to our serial production line, which allowed us to realize our vision for a full flex shipyard," said Jan Allman, FMM president and CEO. "Fincantieri Marinette Marine's shipbuilders are proud to deliver this proven warship, and we look forward to working with the U.S. Navy to continue building these highly capable ships for the fleet."
Named in honor of the patriotic and hardworking citizens of Little Rock, LCS 9 will be the second U.S. Navy ship to bear the name of Arkansas' largest city. Her homeport will be Naval Station Mayport, where she'll join USS Milwaukee (LCS 5) and USS Detroit (LCS 7).
The Lockheed Martin and FMM team is currently in full-rate production of the Freedom-variant of the LCS, and has delivered five ships to the U.S. Navy to date. There are seven ships in various stages of construction at Fincantieri Marinette Marine, with one more in long-lead production.
The Freedom-variant LCS team is comprised of Lockheed Martin, shipbuilder FMM, naval architect Gibbs & Cox, and more than 800 suppliers in 42 states.