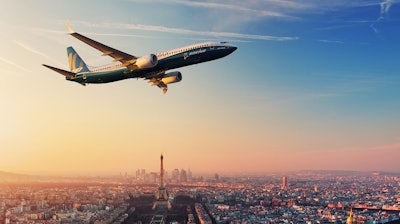 Boeing
Today at the Paris Air Show, Boeing launched the 737 MAX 10, the newest member of the 737 MAX family.
According to the company, the 737 MAX 10 will have the lowest seat-mile cost of any single-aisle airplane ever produced.
The airplane has gained market acceptance with more than 240 orders and commitments secured from more than 10 customers worldwide. Customers will be announcing order details throughout the week.
"Airlines wanted a larger, better option in the large single-aisle segment with the operating advantages of the 737 MAX family," said Boeing Commercial Airplanes President and CEO Kevin McAllister.
The 737 MAX 10 continues the MAX family's range advantage over competing models and will deliver five percent lower trip costs and five percent lower seat-mile costs.
Design changes for the 737 MAX 10 include a fuselage stretch of 66 inches compared to the 737 MAX 9 and levered main landing gear. The airplane has the capacity to carry up to 230 passengers.
Other changes include a variable exit limit rating mid-exit door, a lighter flat aft pressure bulkhead and a modified wing for low speed drag reduction.
The 737 MAX has had more than 3,700 orders to date.