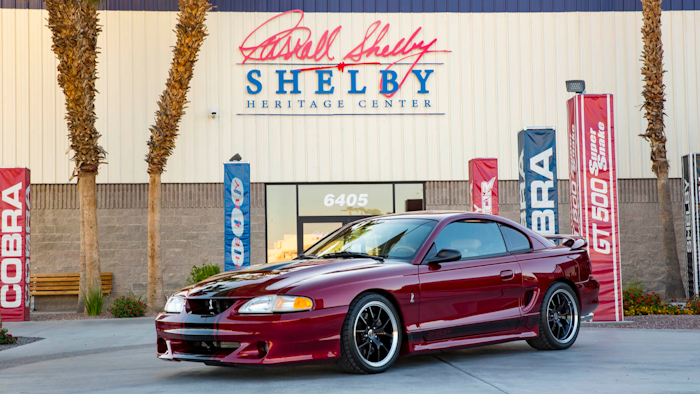 Shelby
An initiative to explore new business opportunities has resulted in a special one-off Shelby version of a 1997 Ford Mustang by Shelby American, Inc.
The car was recently delivered to its owner in Central Texas after the team at Shelby American reimagined the car as if the company had built it new in 1997.
Shelby American's roots with these types of projects stretch back to one-off cars like the "Green Hornet" and "Little Red" from Shelby fifty years ago; the company's history includes experimental cars like the twin turbo Ford Shelby GT500 named "Code Red" in the 2000s. An unusual opportunity from Central Texas was the latest in this line.
"Joseph Tice of Central Texas owned a 1997 Mustang GT and approached us to build a one-off car, as if there was a Shelby version offered that year," explained Gary Patterson, president of Shelby American. "He wanted it to look OEM, but feature contemporary technology and performance. It was much more of a challenge than anyone initially thought."
The car was in a state of partial assembly when it arrived at Shelby American in Las Vegas. First, a "creative brief" with the parameters, goals and vision for the car was created. Then a handpicked team of craftsmen, led by Vice President of Operations Vince LaViolette, completely took the car apart. No system was left untouched, from the interior to the new drivetrain, brakes, cosmetics and suspension.
"We literally took the Mustang down to the bones," said LaViolette. "We hand built a supercharged 4.6L engine, rebuilt the transmission to handle it, transformed the suspension and added an incredible braking system. Inside and out, it became a showcase, but retains a factory feel. It even has a special badge, 'CSM100SPECIAL' with a serial number for the official Shelby Registry. It's the 'Shelby that might have been' if we'd been turning out Ford Mustang based cars in 1997. It's a total sleeper that can kick tail on the street and mystify people with its unique provenance."
Delivered on May 16, 2017, the "Racer Red" 1997 car includes:
Performance equipment
Rebuilt 4.6L V8 engine
P1SC Procharger with Intercooler
Flowmaster Exhaust
Eibach Suspension upgrade
Adjustable Clutch Quadrant
Short Throw Shifter
Performance Driveshaft
Body components
New Shelby paint with factory racing stripes
Body Appearance Package
Performance wheels and tires
New hood
Shelby engine badge
Interior components
New complete interior including seats, carpet and dash pad
Shelby gauge Pod
Custom programs are not new as Porsche has its "Exclusive" tailoring program and even Aston Martin has its "Q" program. But this project went much further than most carmakers.
"We built this car for someone who believed the only limits should be his imagination," said Conway. "We've not yet determined if we'll repeat this type of project again, but it certainly challenged our team. The success of this car certainly demonstrates the technical prowess and capabilities of Shelby."