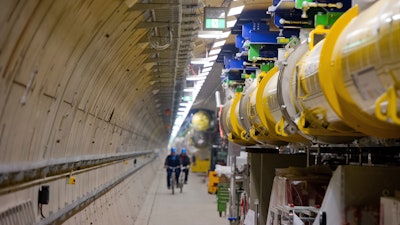 Daniel Bockwoldt/dpa via AP
BERLIN (AP) — Scientists say they've reached a milestone on the way to switching on the world's biggest X-ray laser, designed to capture images of structures and processes at the atomic level.
The DESY research center near Hamburg, Germany, said Wednesday it successfully fired electrons through a 2.1 kilometer (1.3 mile) particle accelerator.
It plans to increase the energy of the electrons and generate the first X-ray laser light next month.
Once the European XFEL project begins operation later this year it will produce up to 27,000 X-ray laser flashes per second.
Scientists hope it will open up new areas of research, like mapping the atomic details of viruses and deciphering the molecular composition of cells.
Institutions from Germany, France, Italy, Poland, Russia, Spain, Sweden and Switzerland are involved in the project.