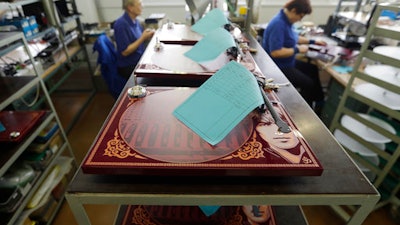 AP Photo/Petr David Josek
LITOVEL, Czech Republic (AP) — The biggest maker of quality turntables, a company in the Czech Republic called SEV Litovel, has increased its production fourfold between 2009 and 2016, when it made 124,825 units.
"I really can't see the end (of the growth)," said Managing Director Jiri Mencl, who estimates production of 150,000 in three years. His firm has opened a new production site worth 180 million koruna ($7.2 million) this year to meet the demand for turntables, which has been rising globally.
Established in 1999 as a successor of the Communist era, state-owned electronics maker, SEV bet on a combination of quality and a reasonable cost. Starting with its own design, the company makes almost all parts that are carefully assembled by hand, piece by piece. The turntables are belt-driven, meaning they are used to listen to records, not for DJ mixing.
Some 400 employees — a workforce that has doubled in size in the last five years — make a number of types of turntables, with prices ranging from as low as $200 to $10,000.
Under a commercial deal, Austria's Pro-Ject Audio Systems distributes the turntables globally under its Pro-Ject brand. They are a regular receiver of awards in the hi-fi category by the European Imaging and Sound Association, or EISA.
Pro-Ject Audio Systems director Heinz Lichtenegger said part of the secret behind the turntables' return is that "people search for things that make their life more enjoyable, more slow."
"Turntable means you have to listen to the music relaxed" he said. "You have to take time for your music. You don't click for the next song. You have to listen to the whole record. You have to clean the record. You have to care about your record. It's like a good wine."
He said the United States, European countries like Britain, and Australia are among the biggest markets, with the best sellers in the $300-$400 bracket.
"It's a piece of art that people are buying, which is not too expensive," Lichtenegger said. "It's affordable luxury."
Ludek Motlicek from the Acoustique Quality, a firm that sells the Pro-Ject turntables in the Czech Republic, said the reason for the comeback is the analog sound that "the digital sound cannot match."