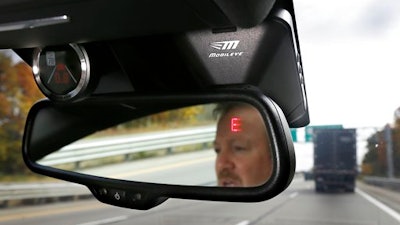 AP Photo/Carlos Osorio, File
SANTA CLARA, Calif. (AP) — Intel will buy Israel's Mobileye in a deal valued at just over $14 billion, the latest push by a major tech company to advance autonomous vehicles that could change the way traffic moves globally.
Mobileye develops technology that essentially gives computers a sense of their physical surroundings and it has also been busying creating ties to get that technology onto the road. Last year, it teamed up with Delphi Automotive to develop the building blocks for a fully autonomous car.
Also in 2016, ride-hailing company Uber Technologies and Volvo signed a $300 million deal for Volvo to provide SUVs to Uber for autonomous vehicle research. General Motors Co. invested $500 million in Uber rival Lyft Inc. to develop a fleet of autonomous electric taxis.
Google has a partnership with Fiat Chrysler to work on autonomous minivans, and Volkswagen is working with Uber competitor Gett. BMW, Intel and Mobileye also have a partnership, and Ford has invested $150 million in laser sensor maker Velodyne.
In the latest deal, announced early Monday, Intel Corp. will pay $63.54 for each share of Mobileye N.V., a 34 percent premium to its Friday closing price.
The companies put the equity value of the deal at approximately $15.3 billion.
The combined global autonomous driving company, which includes Mobileye and Intel's autonomous driving group, will be based in Israel and led by Mobileye Chairman and co-founder Amnon Shashua. The organization will support both companies' existing production programs and build on relationships with automotive original equipment manufacturers, Tier-1 suppliers and semiconductor partners to develop advanced driving assist, highly autonomous and fully autonomous driving programs.
Intel CEO Brian Krzanich said in a company release that by working together, the companies will be able to "accelerate the future of autonomous driving with improved performance in a cloud-to-car solution at a lower cost for automakers."
The deal, approved by the boards of both companies, is targeted to close within nine months.